Top 5 Employee Attendance Management Systems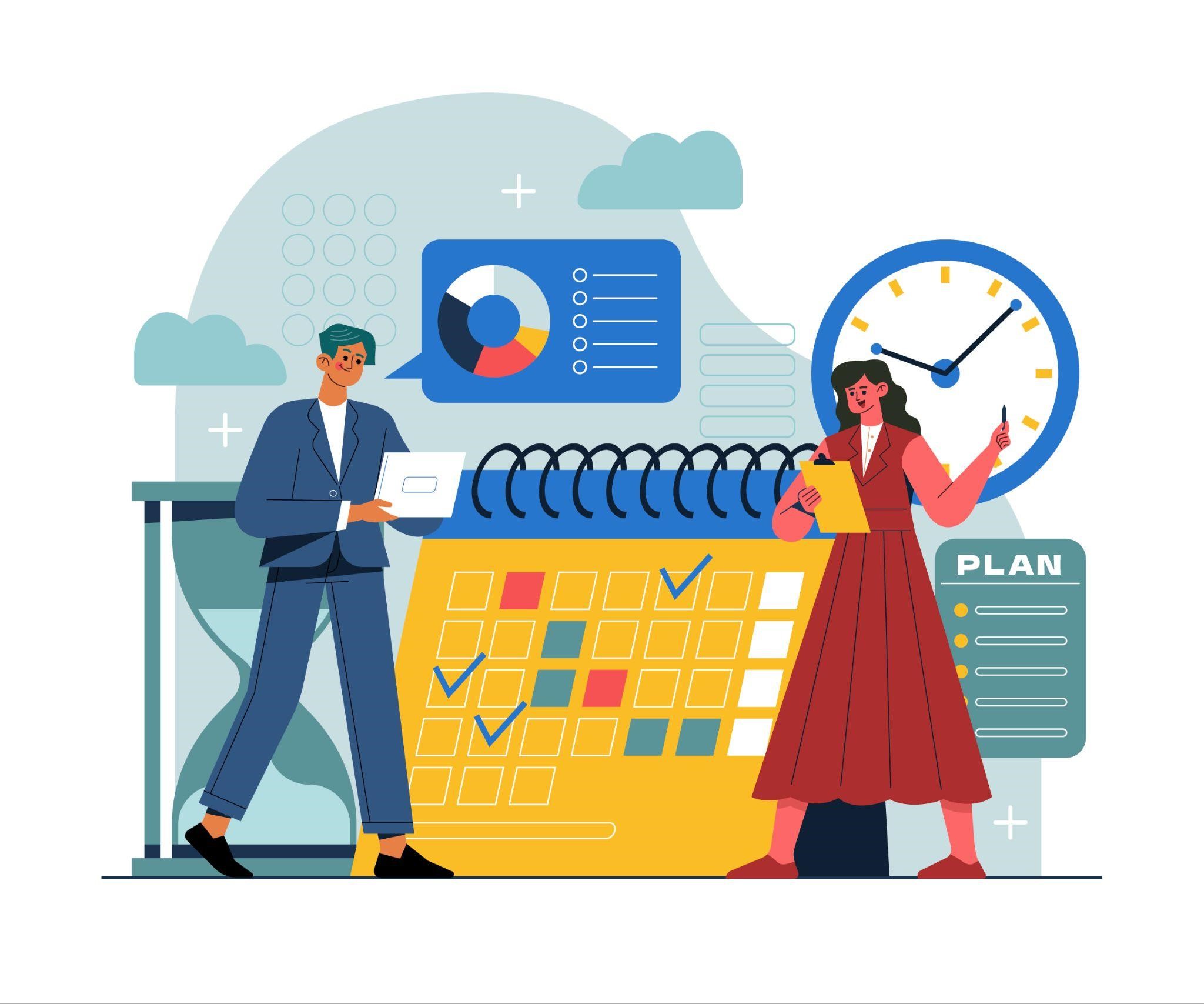 Keeping track of employee attendance is a crucial part of HR operations, requiring a clear understanding of operations, concepts, and best practices. 
In this post, we'll explore how Flowace, our cloud-based attendance management system, can be a game-changer for business owners and HR professionals. 
Discover how it enhances employee accountability through features like location and device restrictions and saves valuable time on payroll with on-demand reports, automatic hour calculations, time-off tracking, and more.
But that's not all—we'll also highlight four other attendance trackers for employees, giving you a comprehensive look at your software solution options for a well-rounded assessment. 
What is attendance management?
Attendance management is the process of recording and tracking employee presence at a workplace, aligning with the company's policies. The opposite of attendance is, naturally, absence from work. 
However, it involves more than just physical presence; many companies require employees to be present within specific periods for designated hours to be considered "present."
For instance, merely showing up for an hour at a factory at 3:00 PM doesn't suffice; employees are often expected to be present for their scheduled shift. 
This is where Attendance Management steps in—the system is designed to monitor and document employee hours, capturing work hours and time off. 
Whether done manually on paper, through spreadsheets, time cards, or utilizing online attendance software, Attendance Management ensures accurate recording of employee attendance details.
5 Best Employee Attendance Management Software
Here are some of the best employee attendance management software:
Flowace
Flowace.ai stands out as an empathetic AI software, seamlessly combining robust features with a profound understanding of its users. The tangible impact is undeniable—a remarkable 31% surge in productivity was observed across 36,763 users within just 89 days. This isn't a mere claim; it's a measurable outcome reported by our users.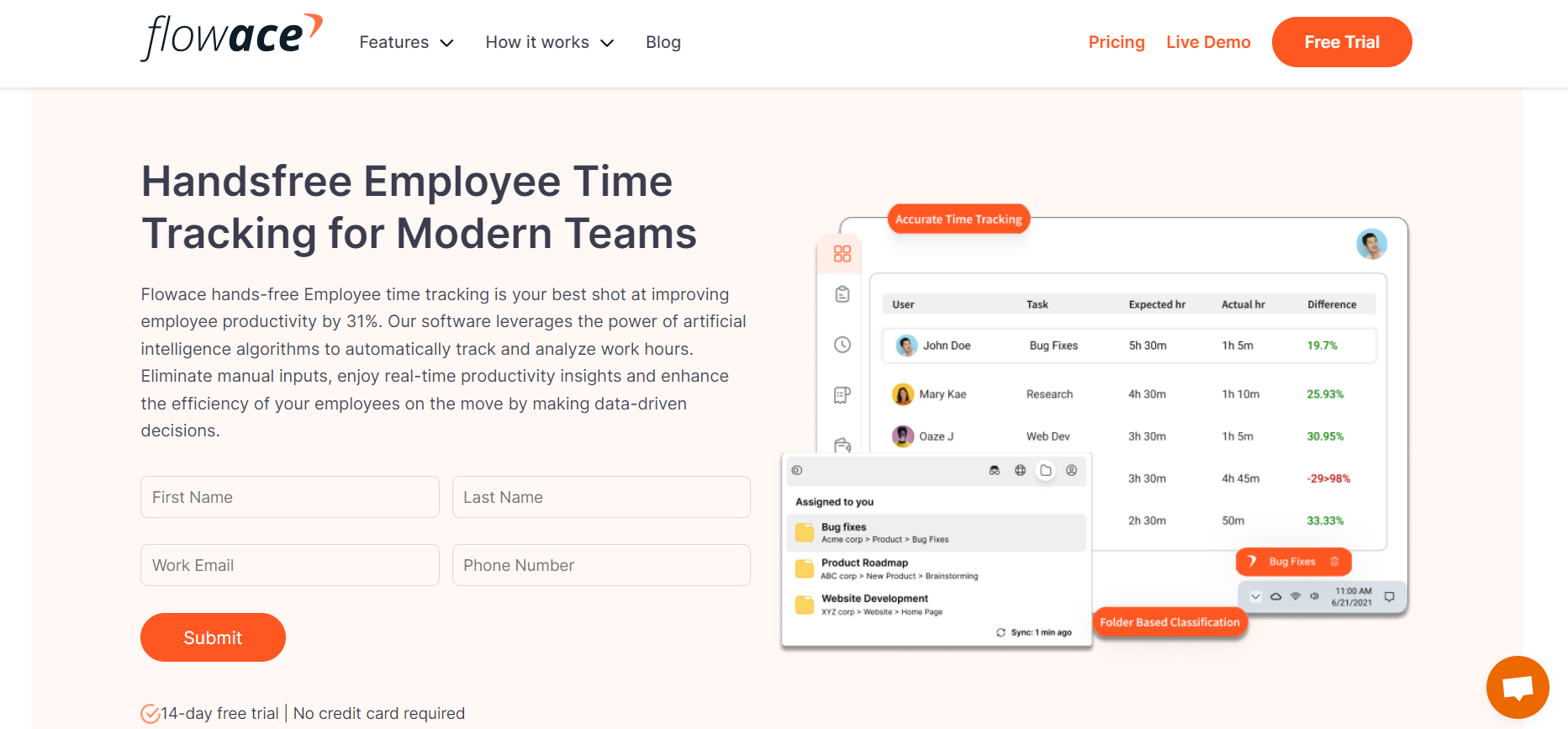 Ideal for project management, Flowace thrives on the synergy of idealism and productivity, striving for excellence in every task. Beyond merely enhancing productivity, this AI marvel is geared towards preparing your team for the future and simplifying the complexities of the dynamic workplace.
Key features of Flowace:
Recognition and rewards for those tackling critical tasks

Farewell to office politics—performance data guides fair evaluations, eliminating favoritism

Deep insights into employee behavior, time allocation, and project costs

Hassle-free generation of billable and non-billable hours, ensuring everyone's satisfaction

Seamless management of overtime rules, compensation, and prevention of unauthorized side jobs

Flowace offers valuable insights to streamline workflows and reduce time wastage

Effortless categorization of tasks and activities
Timesheet data analysis and reports
Flowace offers Dive into robust data analysis and reports, unraveling insights into employee behavior, time allocation, and project costs. It continues beyond the basics; Flowace categorizes tasks, simplifies invoice generation, and boosts team efficiency. Aligning resources with project budgets it snuffs out workflow bottlenecks for smoother operations.
Hands-free time tracking
Enjoy the ease of hands-free time tracking. Identify peak productivity periods, record work hours and locations accurately, and gain insights into individual and team productivity levels. Flowace goes beyond the usual, adapting to your workflow and supercharging overall efficiency.
Project communication
Flowace is your communication champion. Set clear expectations, prioritize tasks, and execute projects successfully. It tailors management approaches to fit the dynamics of remote work, ensuring seamless collaboration and communication. 
Pricing Information
| | |
| --- | --- |
| Plan | Price |
| Basic | $3.99 /user/month |
| Pro | $6.49 /user/month |
| Max | $8.99 /user/month |
| Enterprise | Get in touch |
Curious? Intrigued? Excited? Jump on a call with us and switch to Flowace.ai!
Keka
Keka is a leading employee attendance management software that gives you bird's eye view data to track employee location status effortlessly. You will be able to access comprehensive statistics detailing employee presence, absence, punctuality, lateness, and those yet to report to work—all in one centralized space.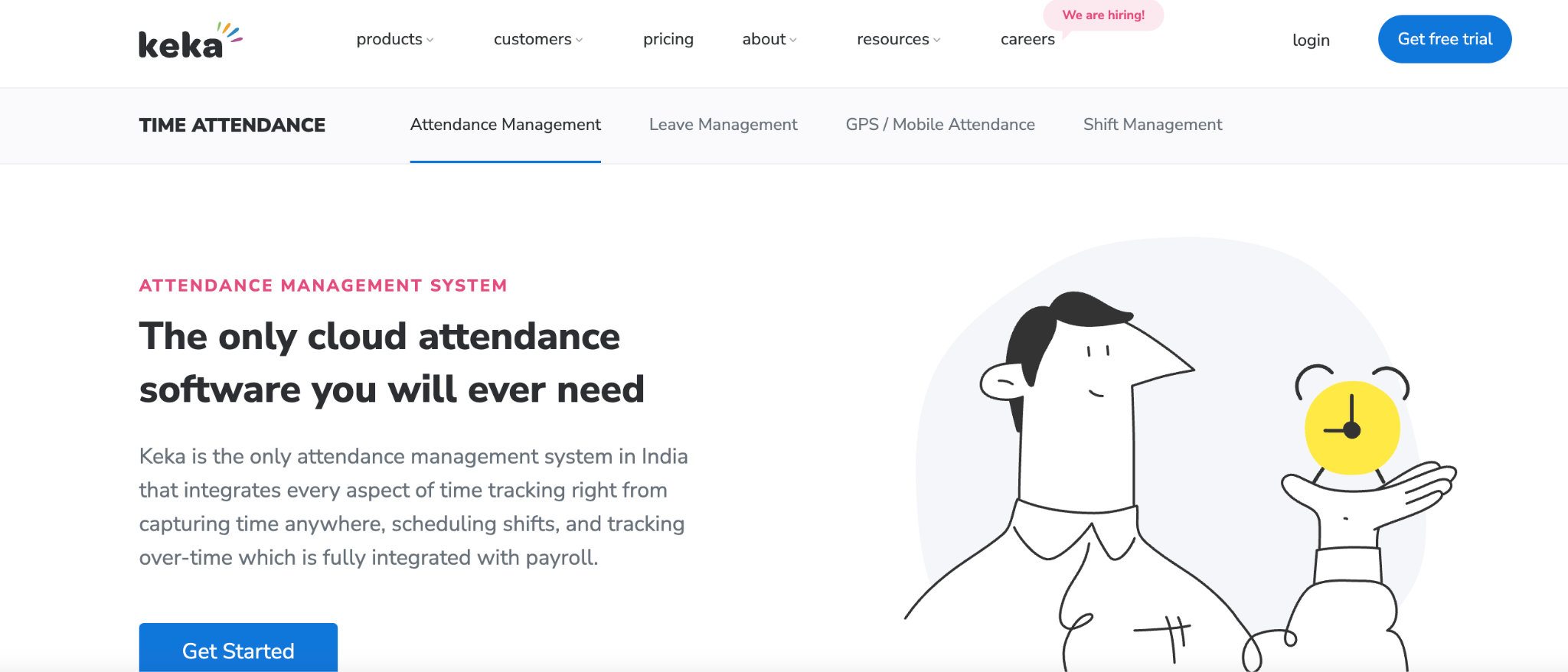 The platform also ensures a reliable mechanism, offering peace of mind for employers. Simultaneously, employees benefit from a smooth and user-friendly experience, making the process seamless.
The interesting feature of this platform is the selfie attendance and facial recognition functionality to capture an employee snapshot. This image is then cross-referenced with the employee database, providing a secure and authenticated attendance process.
Key features of Keka:
Automate payroll processes effortlessly and avoid incorrect data input and confusion

Document, review, and evaluate employee performance with the user-friendly performance appraisal feature

Foster engagement and inspiration within your team

Keka empowers managers and team leaders with tools for providing continuous feedback

Define roles effortlessly with six pre-defined roles that can be assigned to employees. 

Transforms time tracking into an enjoyable experience 

It gamifies time tracking, offering employees a visually pleasing interface to monitor their time efficiently
Pricing Information
Plan
Price

Foundation

₹6,999/month

(upto 100 employees)

Strength

₹9,999/month

(upto 100 employees)

Growth

₹13,999/month

(upto 100 employees)

Startup

Contact for pricing
Buddy Punch
Buddy Punch stands as a user-friendly online application designed for seamless time tracking and scheduling. Offering a comprehensive solution, it enables users to effortlessly monitor time, track time off, locations, and job details. The primary goal is to make the punching in and out process intuitive for employees while providing users with a convenient interface to view and export time data.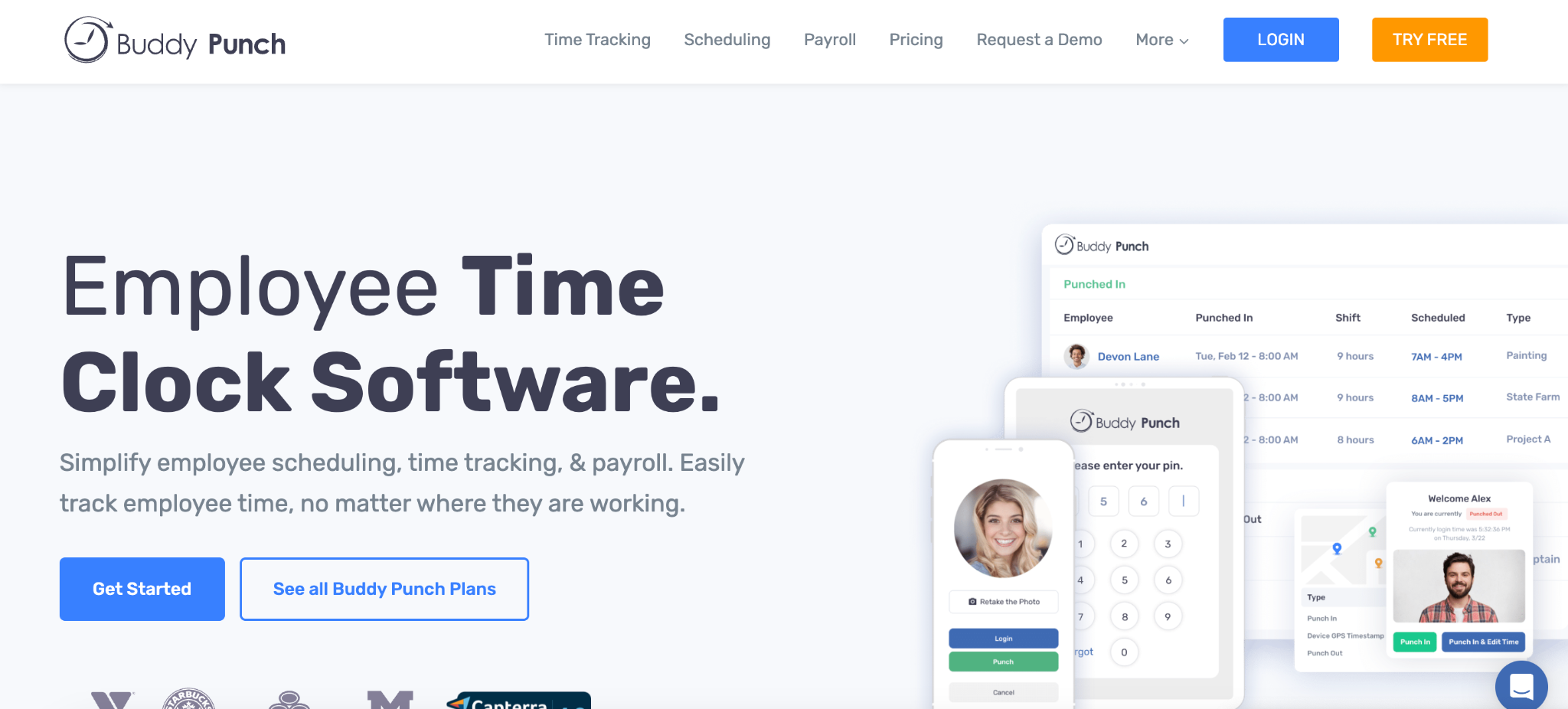 Employees can easily clock in using a browser or the dedicated Buddy Punch apps available for Google, iOS, and Android. The system ensures a smooth experience without disrupting the employee workflow. Once the time-tracking process is complete, users can conveniently download an Excel file. This file contains essential information, including time details, ensuring a hassle-free payroll process.
Key features of Buddy Punch:
IP Address Locking 

You can manage paid and unpaid time off without calculations or spreadsheets

User-friendly software

Multiple punch-in options, including facial recognition

Seamless functioning web version

Streamline timesheet changes
Pricing Information
| | |
| --- | --- |
| Plan | Price |
| Standard | $3.99 per user/month |
| Pro | $4.99 per user/month  |
| Premium | $6.99 per user/month |
| Enterprise | Contact for pricing |
OnTheClock
OnTheClock is widely recognized for its strong and user-friendly online employee time tracking system. With a straightforward approach, it caters to the needs of both office teams and remote workers. The platform enables customization of employee shifts, approval of PTO requests, location tracking, and the creation of default settings for groups.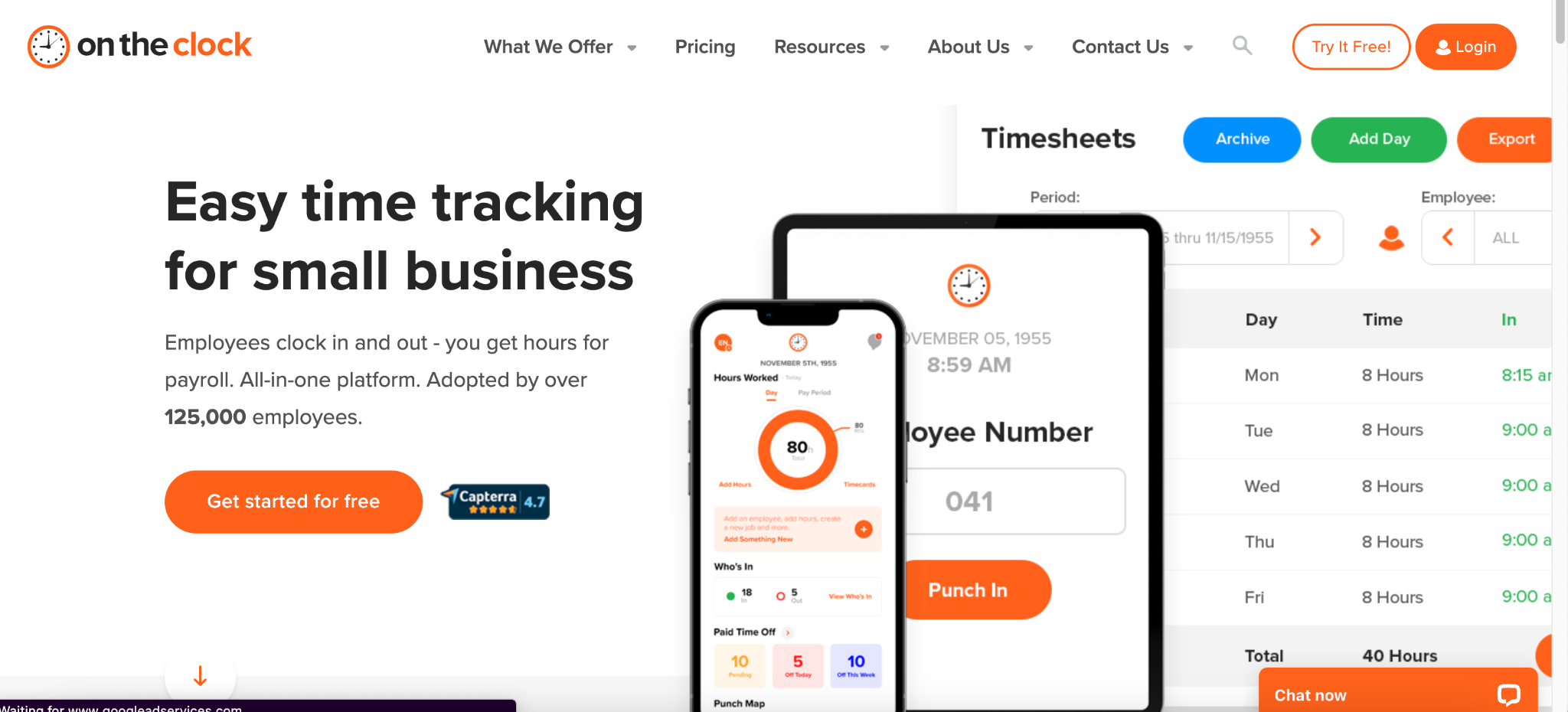 Key features of OnTheClock:
Keep a close eye on expenses effortlessly

Streamline and simplify payroll processes for efficient management

Organize and oversee projects seamlessly

Track time efficiently with user-friendly tools

Manage employees effectively with comprehensive tools

Empower employees with a self-service portal for convenience

Ensure accurate timesheet management for precise records

Efficiently schedule employees to optimize workflow

Effectively track and manage FMLA cases

Streamline workflow with efficient management tools
Pricing Information
The pricing is based on the number of employees you have:
| | |
| --- | --- |
| Employees | Price (per employee) |
| 1 – 2 | $0.00  (free) |
| 3 – 10 | $3.50 |
| 11 – 25 | $3.45 |
| 26 – 50 | $3.40 |
| 51 – 100 | $3.35 |
| 101 – 200 | $3.30 |
| 201 – 300 | $3.25 |
| 301 – 400 | $3.20 |
| 401 + | Contact for pricing |
Connecteam
Connecteam is a user-friendly platform designed for employee management, communication, and collaboration. With a range of powerful features, it caters to businesses, especially those with non-desk employees. Serving as both an HR tool and a communication platform, Connecteam aims to be the all-in-one solution for diverse business operation needs.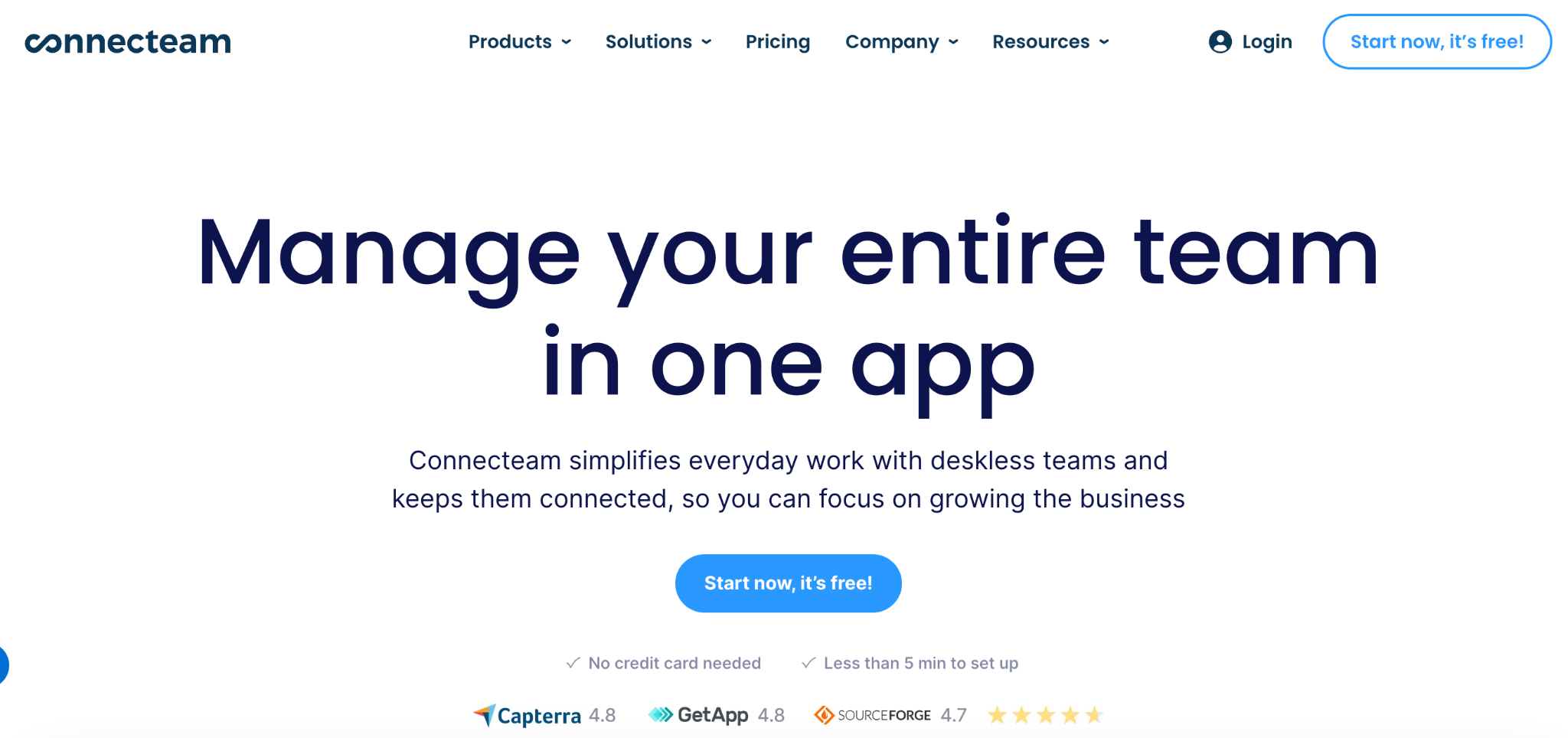 Key features of Connecteam:
Gather comprehensive insights from all angles for a well-rounded evaluation

Seamlessly integrate with external applications for enhanced functionality

Manage user permissions and access controls with ease

Streamline financial processes by integrating accounting tools

Efficiently organize and track tasks for proactive action

Get a centralized view of activities for informed decision-making

Monitor and record activities to enhance accountability and productivity
Pricing Information
| | |
| --- | --- |
| Plan | Price |
| Expert | $99 per user/month |
| Advanced | $49 per user/month  |
| Basic | $29 per user/month |
| The small business plan | $0 |
Is Flowace Right for You or Your Business?
Flowace stands out as an excellent solution for mid-sized and large businesses aiming to streamline the management of their non-desk employees while boosting communication. 
With a user-friendly interface, remarkable features, and flexible pricing, Flowace emerges as a top-notch choice. 
Also, it caters to businesses seeking effective tracking of training, certification, rewards, and compliance for employee advancement.
FAQs
What is an employee attendance management system?
An employee attendance management system is a cloud-based HR technology tool designed to automate attendance operations, allowing organizations to monitor and record employee working hours efficiently.
What is the best way to track employee attendance?
The most effective way to monitor employee attendance is by using a timesheet, and a convenient and free option is through a digital template in Excel. This allows for easy calculation of working hours. Alternatively, physical timesheets can be printed for employees who prefer a hardcopy method.
What is the aim of the attendance management system?
The goal of an attendance management system is to assist administrators in monitoring students and staff. Automated attendance management software is designed to save time and money, easing the workload for staff and enhancing overall efficiency.
Related Post
Managing a remote workforce without falling apart has come a long way. Starting from punch cards and CCTV cameras and…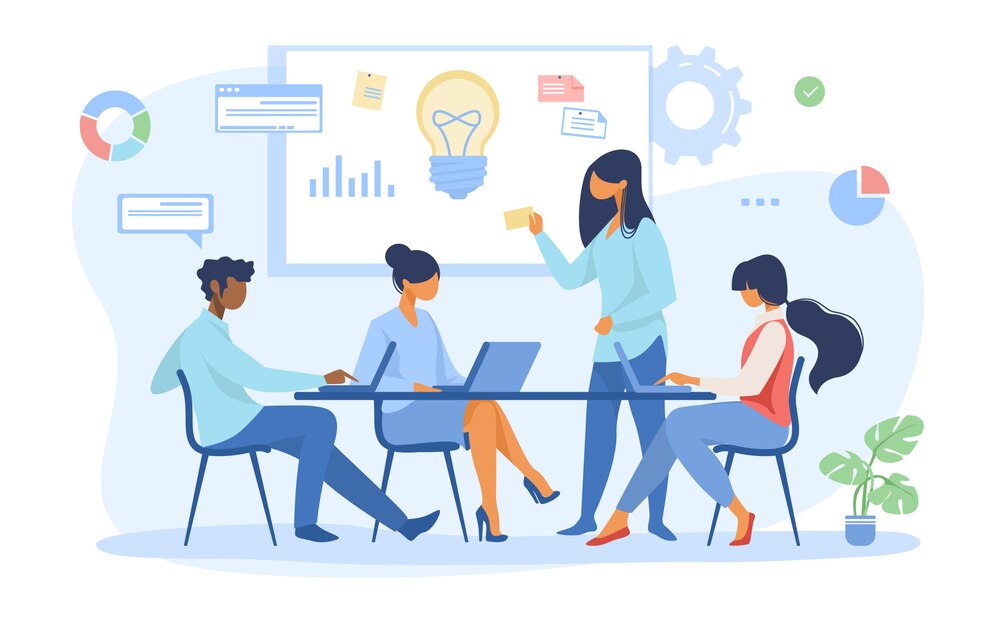 Toggl Track Alternatives Ever tried Toggl for time-tracking? It's pretty popular, but what if we told you there might be…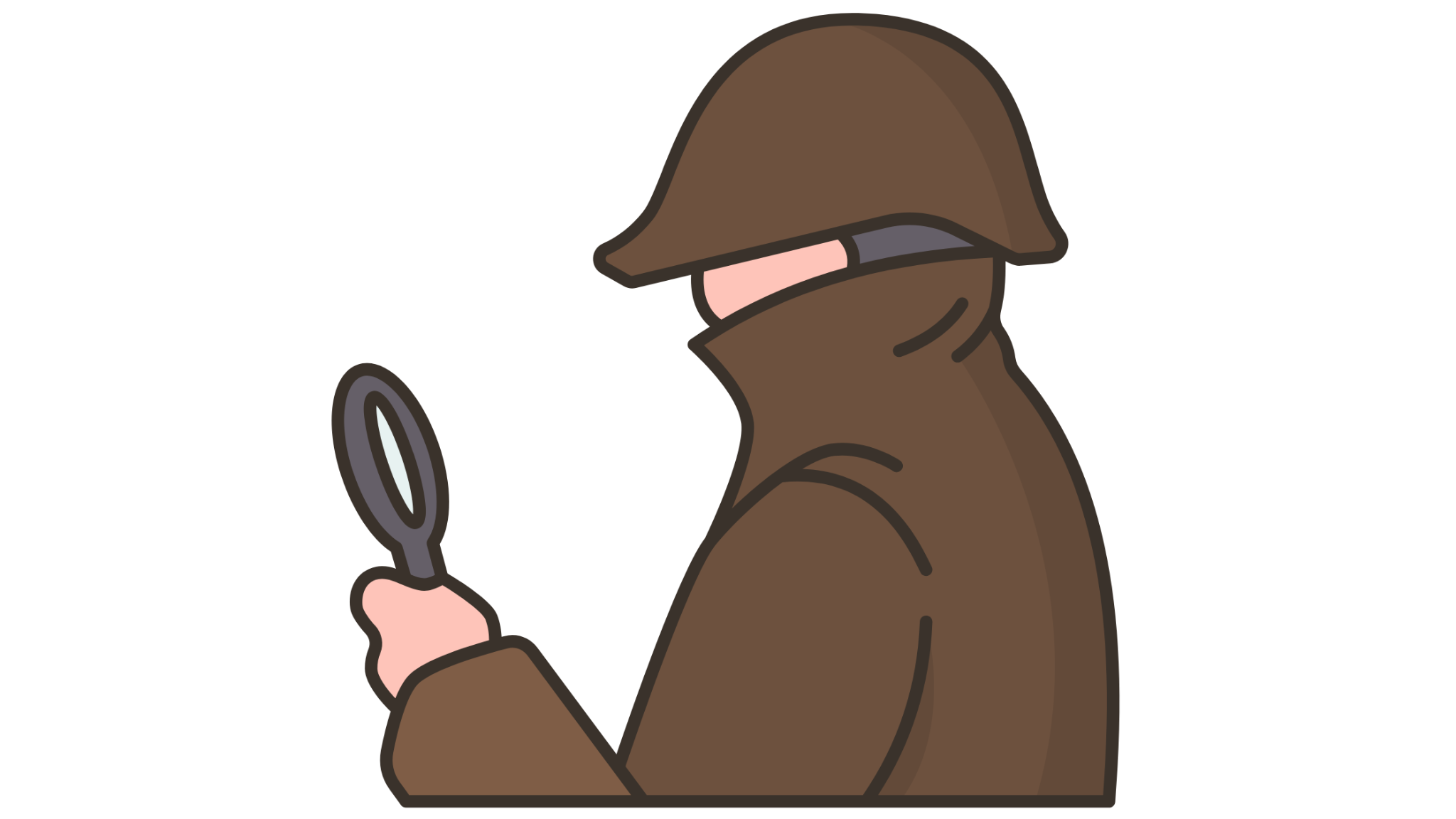 We live in a world surrounded by  computer security. Hence, it's important to remember that firewalls and intrusion detection systems…