Cross-platform Time Tracking solution
Flowace hands-free time tracker for Employee is a software that is compatible with all cross platforms. Now, work from home, office, or outside, our tracker has all your seconds covered.
Desktop Tracker

Gain a comprehensive understanding of your employee's performance by tracking their work activities through our Desktop App.

Web Tracker

Stay updated on your employees' daily progress by tracking their time directly on the web browser, eliminating the need for software downloads.

Mobile Tracker

Measure your team's work calls or outdoor meeting hours seamlessly with Flowace Mobile Tracker, allowing them the flexibility to work from anywhere, anytime.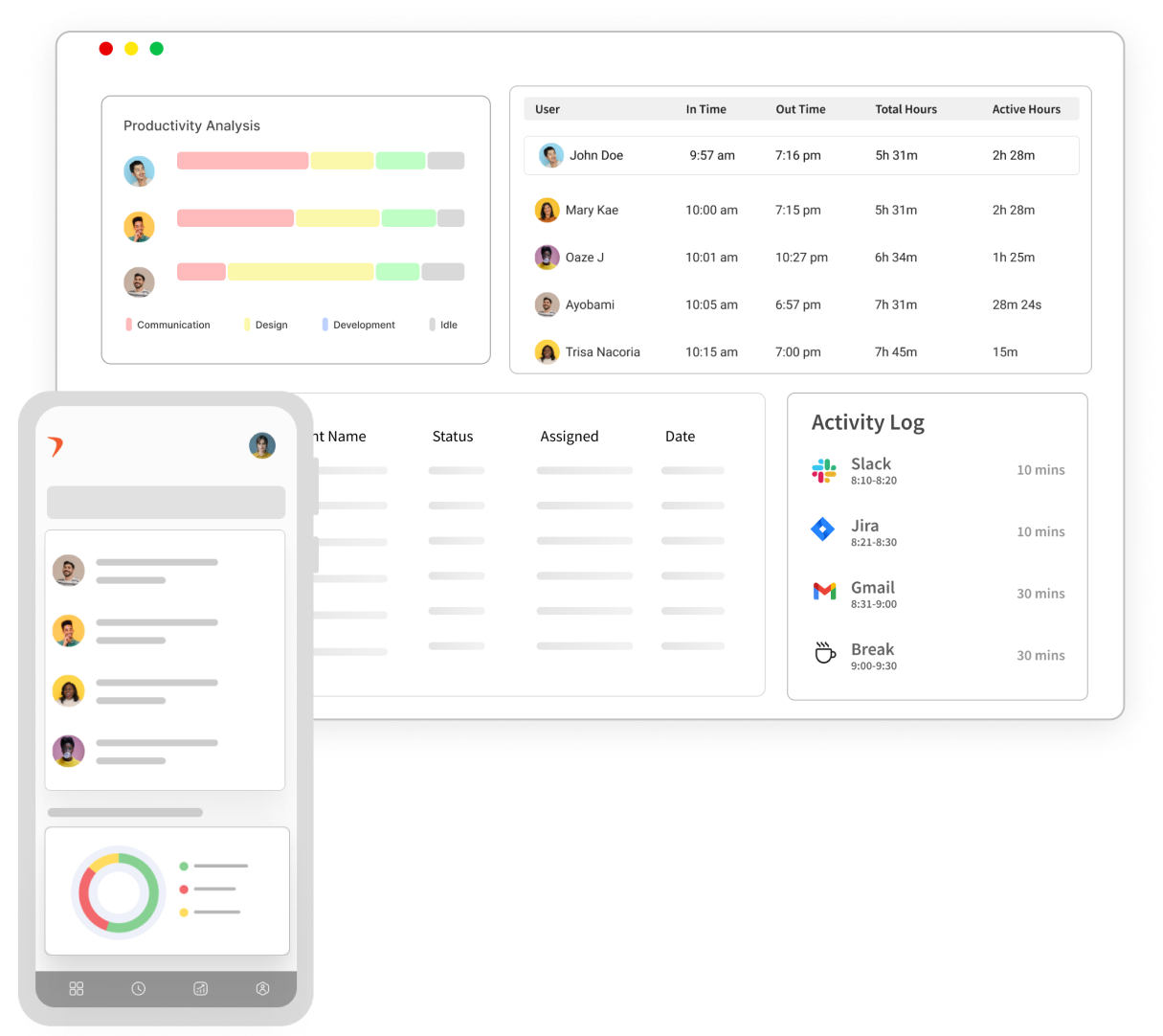 Automated Timesheets
Measure and analyze productivity outcomes effortlessly using our automated timesheets and narration reports with color codes. Get minute details of time spent on employee activities that capture the overall performance of your members daily or in the long run.
Website/App Usage

Measure the performance of your employees like DevOP teams seamlessly by witnessing how much time they spend doing each activity on a website, app, software, etc.

Idle/Break Time Capture

Get a crystal clear picture of which employees are spending time idling and which are the ones working hard, with accurate metrics on idle time, break time, or missing hours.

Track Document Titles

No need for manual document updates! Flowace tracks document working time with clear timestamps on each page. (Ps- only the document titles are captured for maintaining privacy)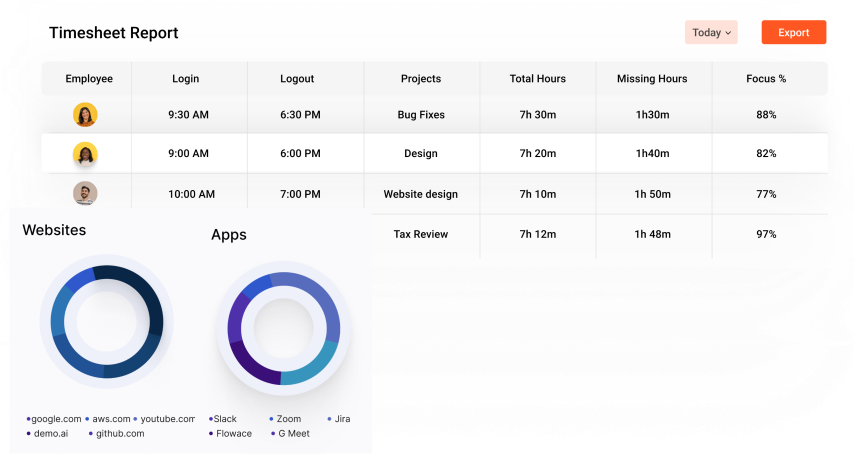 AI Bubble
Dig into a completely revolutionary time measuring feature, unlike the traditional ones. Flowace AI bubble helps block time and captures accurate project analysis data to the T, helping employees maintain their natural workflow.
Project Overview

Boost productivity by adding your projects and tasks within segmented time blocks, fostering an environment of efficient, focused, and intelligent work.

Better Time Management

Working 2-3 projects a day? Worry not, simply block your time using our AI bubble and multitask with ease, as each detail is captured no matter which files you're working on.

Smarter, Faster and Bias-Free

Flowace provides employees and managers with an overview of activity within specific timeframes, promoting fairness and eliminating billing conflicts. Track each second and optimize project management time with Flowace's AI bubble feature.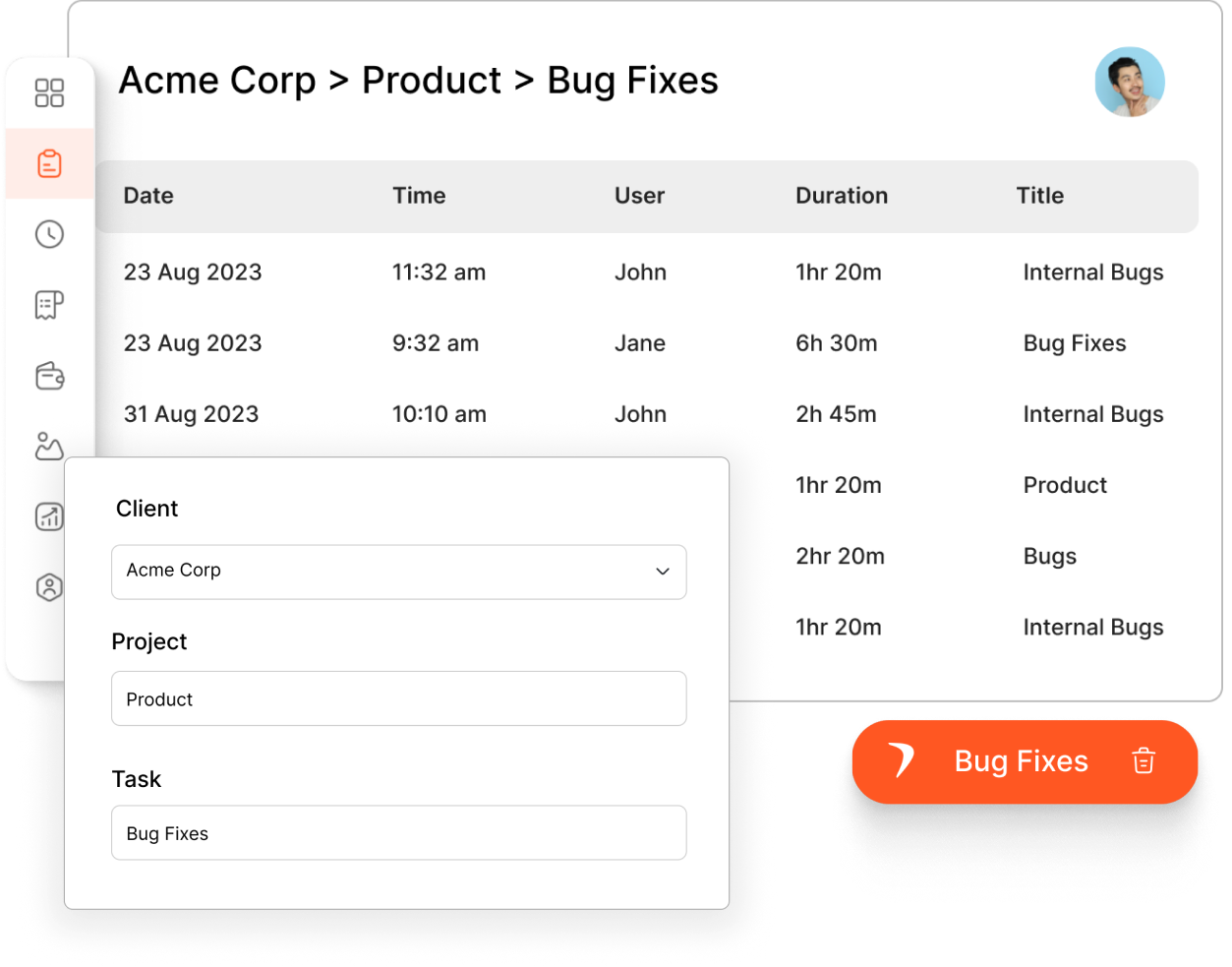 Folder Based Classification
Assign projects, categorize work, and employ members on priority projects directly from our AI time tracking dashboard, and viola, you can measure time spend on multiple projects without breaking a sweat. It's that simple.
Project Overview

Align the entire team towards a common goal. Create projects and tasks, assign employees, and promote efficient and focused work to drive productivity and collaboration.

Concrete Proof of Work

Whenever employees or teams work on a classified project, Flowace automatically measures that time. From time spent on tools used to the final outcome, measure the entire work timeline with clarity and determine productivity levels with our automated timesheet analytics and productivity insights.

Project Budgeting

Prevent revenue leakages and ensure optimal resource utilization by eliminating inefficiencies. Our AI time tracker provides accurate productivity analytics in real-time, enabling precise client billing based on project effort and time invested.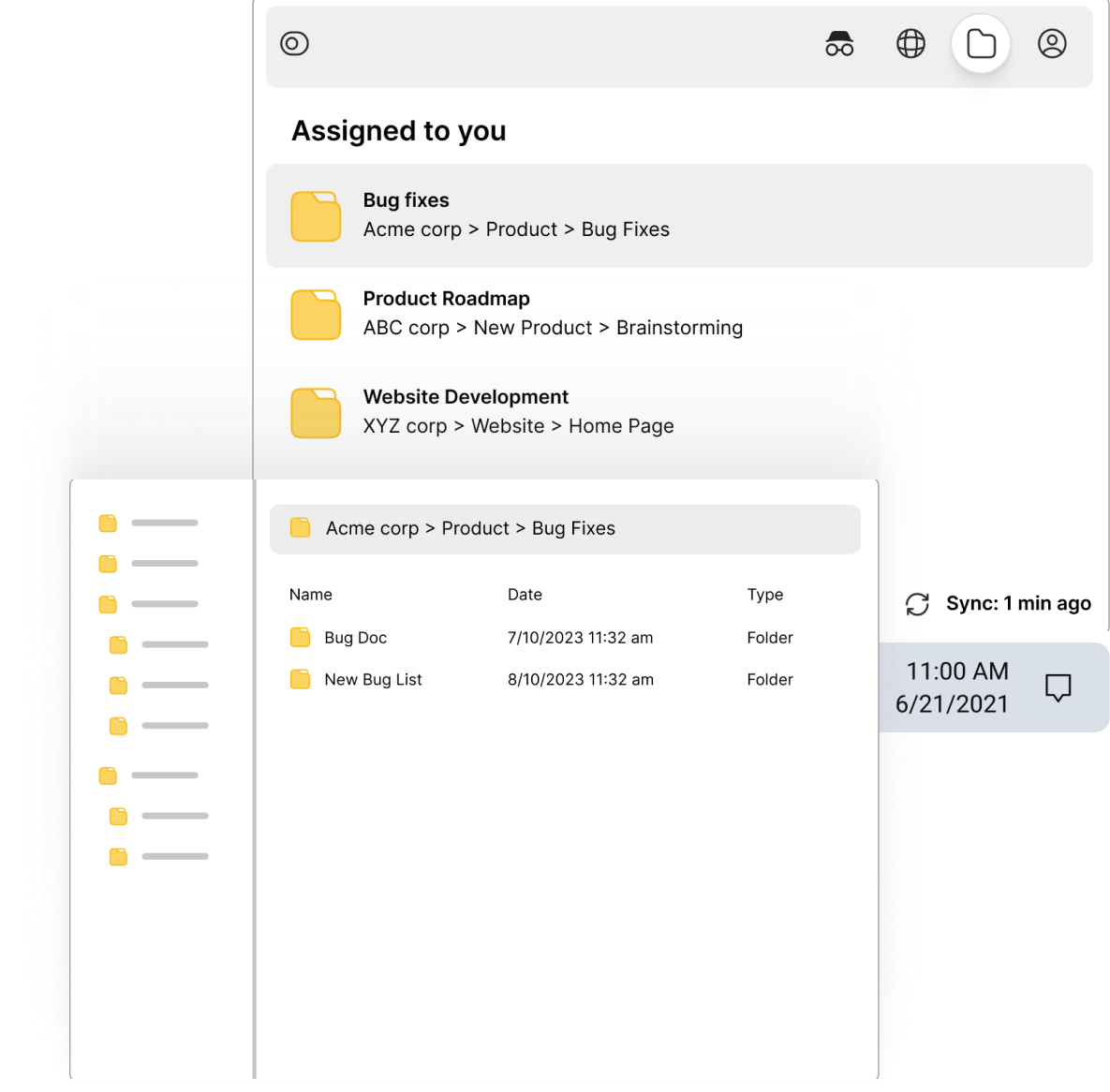 Features
Everything you need to know about the Flowace.
Seamless Integration
Using billing accounting, communication, or DevOps software? Flowace seamlessly integrates with innumerable integration tools.
Narration
Break down your daily productive/unproductive activities with Narration with color codes.
Reporting
Employee, client, freelancer, or admins, get their timesheet reports instantly by simply typing the name/code
Analytics
Want to make appraisal smoother? Check the productivity analytics reports of your teams with one click.
Data Visualization
Get a bird's eye view of resource usage, activity, and effort analysis instantly, and make better decisions every day.
Auto Screenshots
You determine the duration, limitations, and permissions of auto screenshots. Tag these are productive or unproductive for primal clarity.
Frequently Asked Questions
Everything you need to know about the Flowace.
What are the benefits of the AI bubble in Flowace?
The AI bubble offers a seamless integration that enhances the organic workflow of team members while effortlessly synchronizing and monitoring project timelines. This automated system eliminates the requirement for manual data entry, as all project details are readily accessible on the timesheet. As a result, managers can easily oversee project progress, status, and completion pace, facilitating efficient project management.
Boost productivity for modern teams by
minimum 31%.
14-day free trial | No credit card required