ActivTrak vs Flowace: Which is Right For You?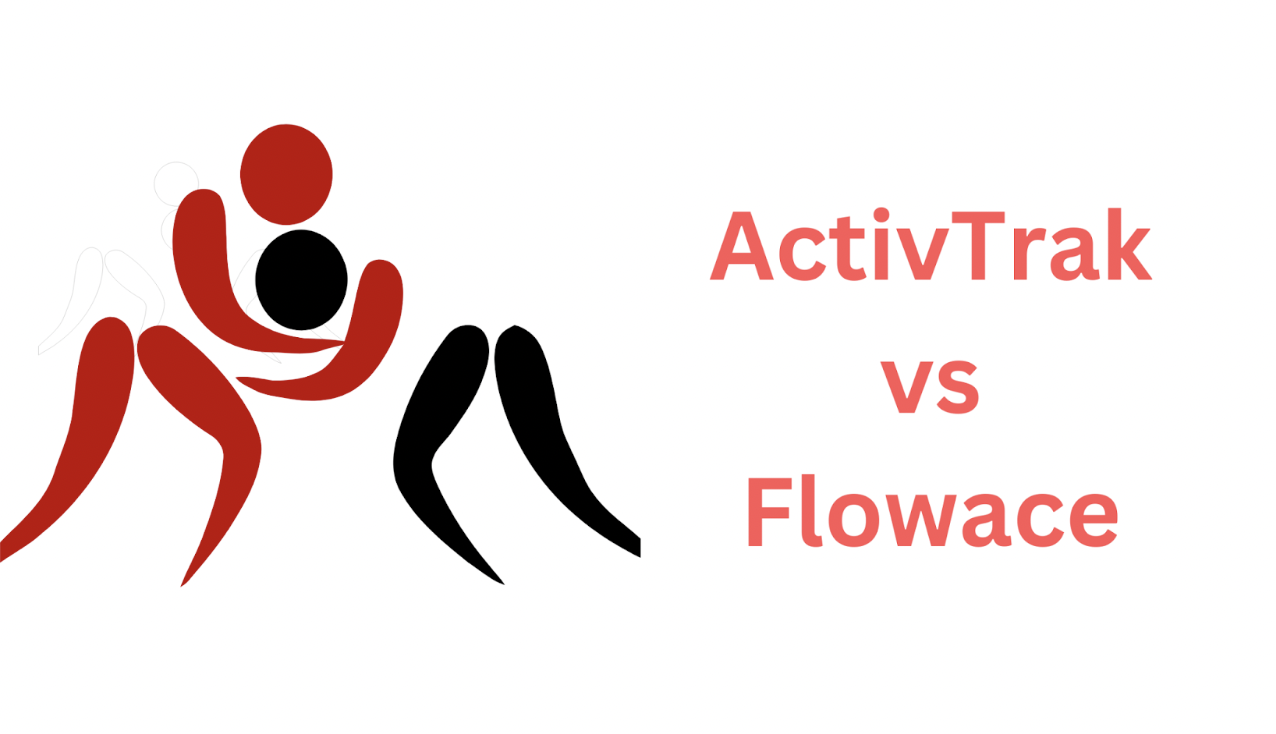 Looking for a better option than ActivTrak? It's a tool to watch over your team's work, but it's not flawless. Setting it up and using it can be tricky, plus there are worries about privacy since users can't see when it's tracking them.
No need to stress, though! We're here to help. If you are on the lookout for the best ActivTrak competitors or ActivTrak alternatives. We'll walk through the main features, prices, and what customers think, so you can choose the right fit for you.
What is ActivTrak?
ActivTrak is a user-friendly and budget-friendly way for businesses, especially small to medium ones, to keep an eye on their employees, which is super helpful in today's remote work era. 
It mainly focuses on tracking how much time employees spend working and being productive. This helps to simplify the sometimes complicated task of keeping everyone on the right track – employees, teams, and projects.
The cool part is that the data it collects helps managers make quick decisions in real-time. ActivTrak's dashboard is easy to grasp, even though digging deeper to figure out which activities are actually helpful or not can be a bit of a chore, especially if your company is big.
Also, you can easily install its tracking tool, and the reports it gives you about productivity are super detailed and spot-on, just like those fancy business intelligence tools. It's got a strong set of monitoring tools at its heart, all designed to control data access and respect user privacy.
Flowace : Activtrak Alternatives
Flowace is a smart AI software that's both powerful and caring. It's managed to boost the productivity of more than 36,500 users by 31% in just under 3 months, without messing up anyone's workflow. Flowace.ai even chats with users and managers, giving them a pep talk to do better in less time and keep a healthy work-life balance.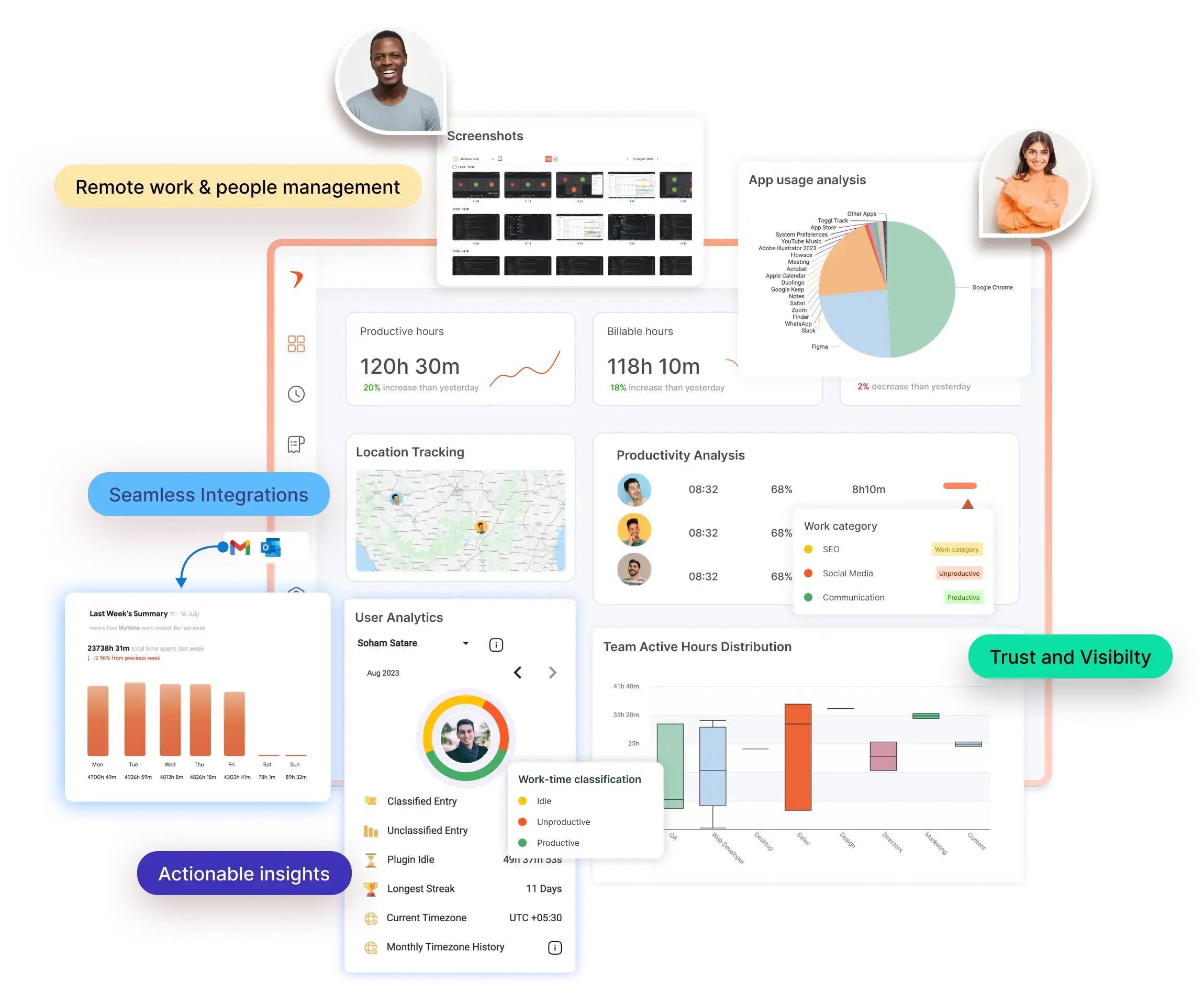 Here's how Flowace has been a hero for organizations:
It figures out who's really working hard, spending time on important stuff, and staying consistent in their performance.

It uses all this performance info to create fair yearly reviews, free from any biases.

It helps set up extra work days, with pay you can adjust, to stop any side gigs.

It also gives out advice on fixing things that aren't working well, like repetitive tasks, time-wasting, and distractions.
Not only that, managers can even connect employees' goals to this tool, which helps measure how productive they are throughout the year, right as it's happening. The dashboards keep showing helpful info regularly, so the managers can keep track, evaluate, and talk to employees.
Hence, Flowace is a helpful tool that helps managers look at performance without any biases and get suggestions for how employees can learn new things and move up.
Flowace vs ActiveTrak: Which is Better?
Flowace 

  ActivTrak

More user-friendly

Flowace has a big plus in its easy-to-use layout, making it simple to move around and get info out. You can whip up in-depth reports that show how much time your employees spend on tasks and where things are going, letting you plan on resources and work smarter.

Another neat thing is that Flowace thinks about privacy. You get to pick what to watch, leaving out personal stuff, so you balance keeping an eye on things and respecting privacy.

 Difficult to navigate and set up

 One thing that users don't like is that it is very hard to navigate. You might not enjoy the fact that this software has so many features and settings to navigate. 

 It might seem like a good thing, but when you're trying to check a basic report, figuring out where to find the info and which filters to apply for what you need can be quite a task. 

Also, many users have found it trying with the number of features that pop up on the account. It gives you the impression that you can use them, but when you click, it asks you to upgrade to a higher-tier account. 

Then, you'd prefer if those tabs or features didn't show up at all, rather than getting your hopes up whenever you click on something unfamiliar. 

Tracks the productivity without violating the privacy

The tool lets you track your team's productivity and see how they work and how much time they put in each day.

The system measures and studies employee productivity fairly over time, removing any subjectivity.

But we get it – everyone needs room! Our time tracker is clear and has a work/privacy mode. If an employee wants a break, they can switch to privacy and won't be tracked. When they're back to work, just switch to work mode, and it'll catch every minute perfectly.

 The productivity tracking is aggressive

 Although, ActivTrak tacks the productivity of users as promised. The approach is rather aggressive. Moreover,   it also gives the employee with a productivity report on how they spend their time.

 For example, when a 'tracked' user logs into a new device, that new device gets added, but the old device remains in the system, and anyone using it also gets tracked.
Hence, if you compare both, Flowace stands out as the best in terms of features and an easy-to-use dashboard that doesn't confuse the daylights out of you!
Why don't you give it a try?
Additional standout features of Flowace to help you make your final decision
Monitoring moonlighting:

Flowace is smart at keeping an eye on unauthorized activities like moonlighting. The time tracker comes with a screenshot feature to prevent this.

Productivity boost:

With Flowace Desk, you get the ultimate analytics tool. Real-time monitoring and detailed reports help you enhance employee productivity right down to the minute.

Quick alerts:

Our dashboard ensures transparency and instantly flags any potential time theft. There's no hiding from it.

Accurate attendance: Thanks to our adaptable dashboard, you can effortlessly track employee attendance across different devices and locations. All attendance data syncs seamlessly to the cloud.

Efficient app and URL tracking:

You can easily categorize work tasks like research, documentation, and communication. Our system then automatically breaks down employee time based on these tasks.
Other Activtrak Competitors You Need to Know
TSheets

Veriato

Time Doctor

Interguard

Insightful
What's Next?
While ActivTrak is a decent tool, many other productivity tools are available. However, Flowace shines as a standout option. 
Once you understand your requirements, finding the perfect ActivTrak alternative becomes effortless. 
So, why wait? Sign up today and watch your employees' productivity soar!
Start your 14 days free trial

for accurate time tracking!
Related Post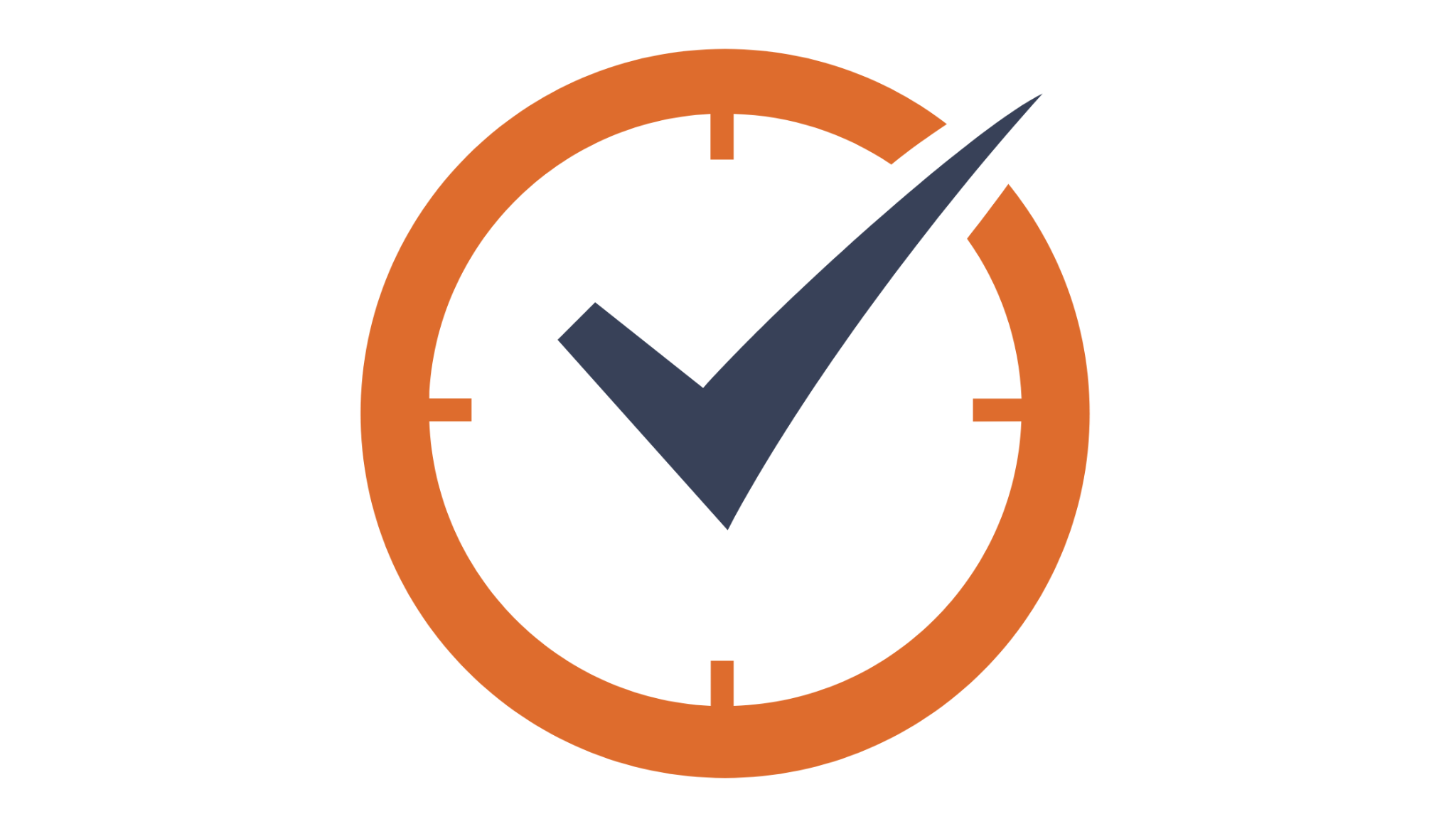 Managing a call center can be demanding, which is why having dependable tools for well-informed choices matters.  Creating a loyal…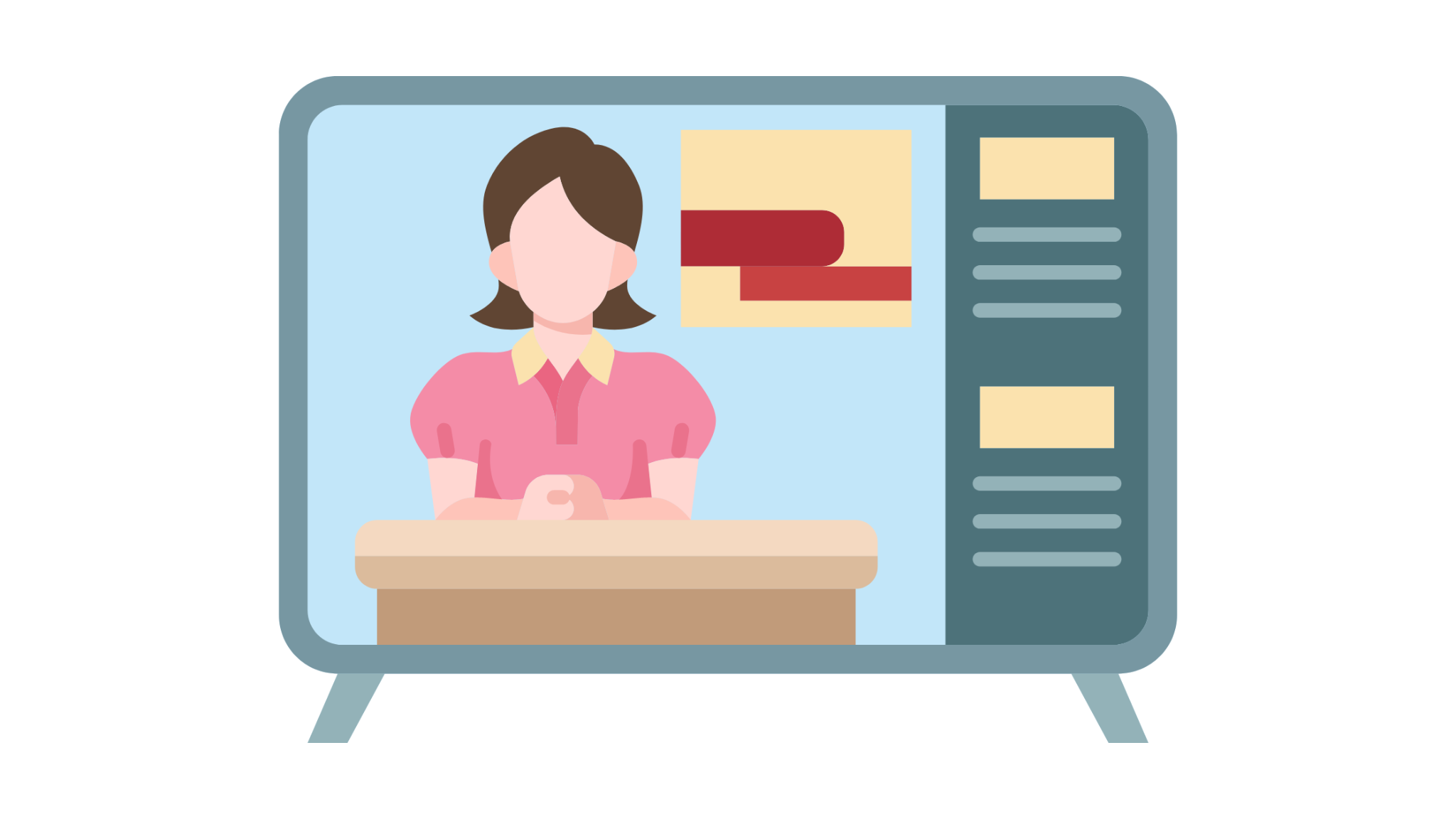 Ever wondered about employee monitoring software and how it works? Remember, your people come first. As Ian Hutchinson said, "Your…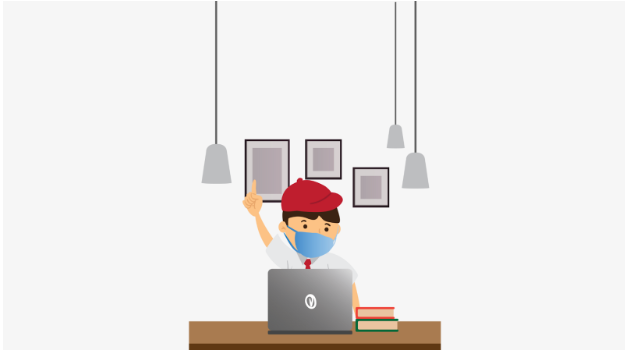 Did you know that 88% of the top-notch companies automate their attendance tracking. Yeah, that's according to the Aberdeen Group.…
Boost productivity for modern teams by
minimum 31%.
14-day free trial | No credit card required