1. Automated Time Tracking
Effortlessly monitor productivity levels for you and your employees with automatic timesheet synchronization and comprehensive insights into employee data.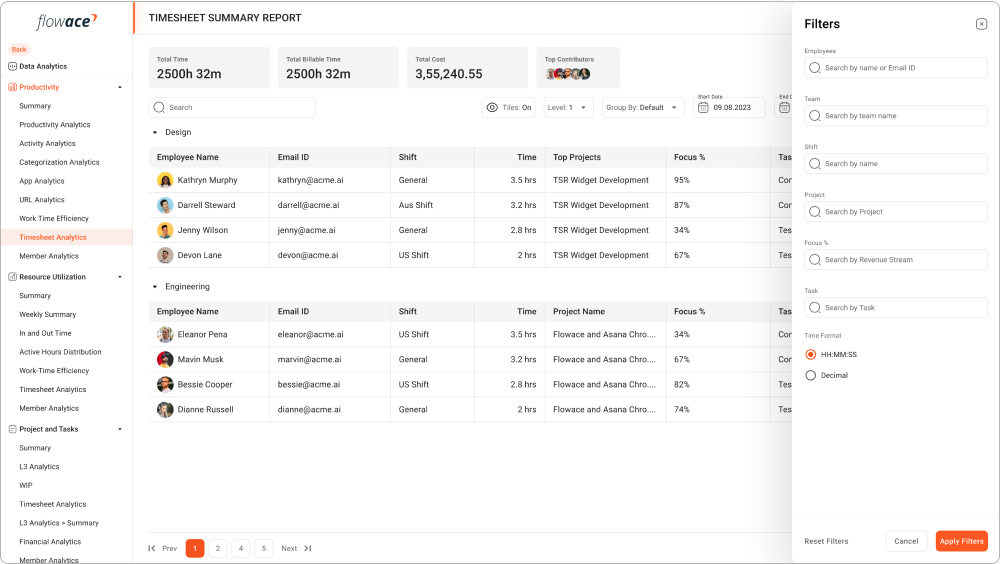 Get Started
2 . Detailed Reports
Generate in-depth time reports that not only keep productivity in check but also serve as valuable guidelines for future planning and decision-making for your company.
Get Started
3 . Effective Planning and Organization
Optimize your time management by focusing on projects and tasks that yield the best ROI. Identify productivity gaps and implement necessary improvements consistently.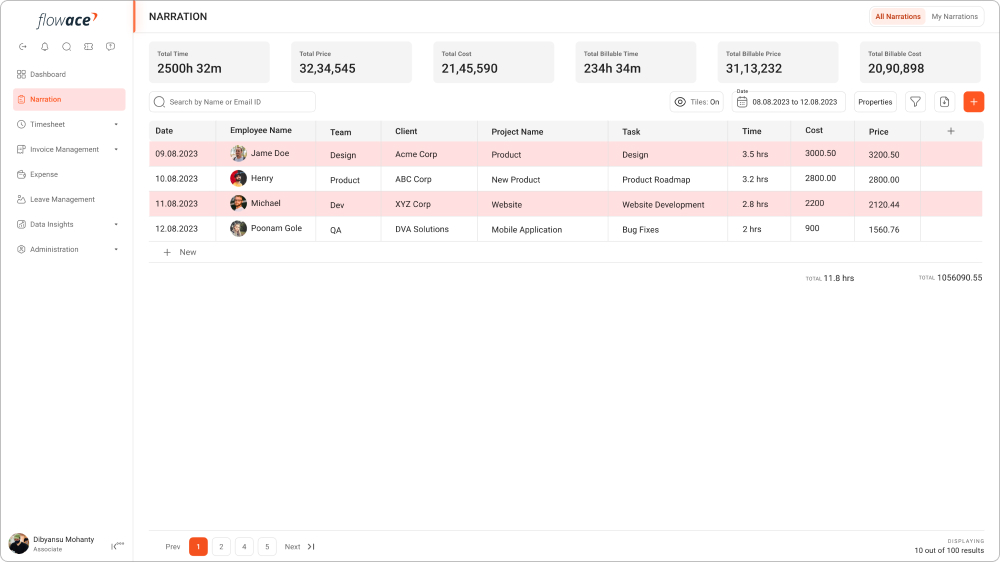 Get Started
4 . Streamlined Workflow Automation
Implement timely reminders and mandatory approvals to streamline workflows. Define clear roles within teams, maximize resource utilization, and customize admin access levels to help employees effectively manage their daily tasks.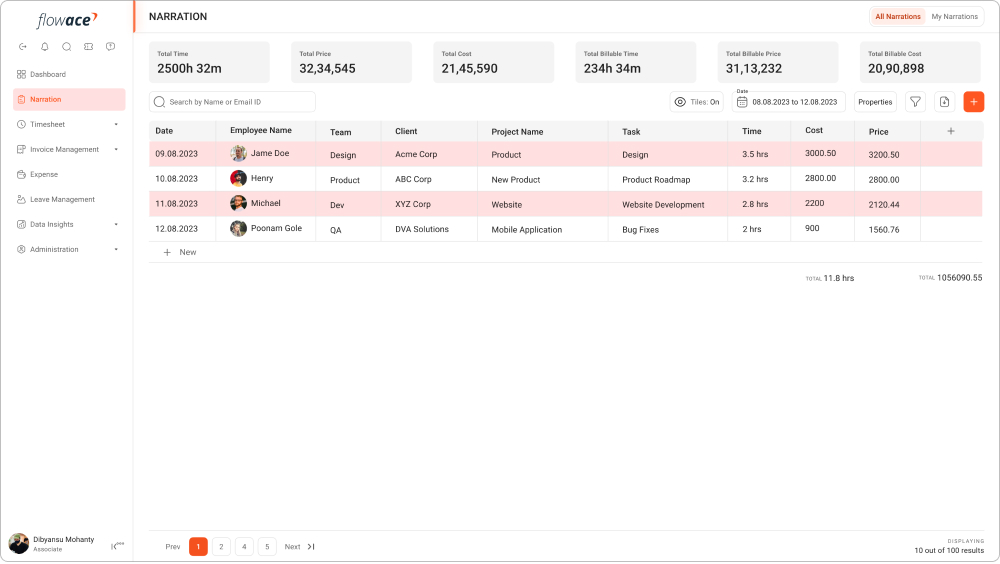 Get Started
5 . Enhanced Accountability and Transparency
With Flowace productivity tracker, ensure accountability across the board. Say goodbye to time theft and unethical behavior as the tool captures the A-Z of employee workflows, promoting transparency and accountability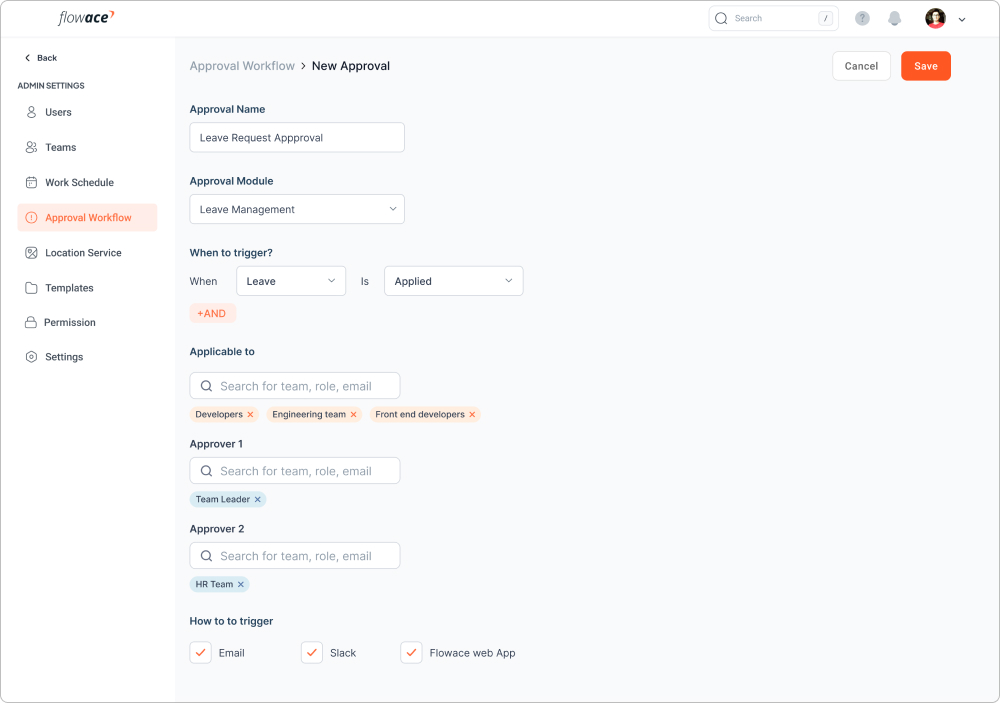 Get Started
All the features you need,
and none you don't
Everything you need to know about the Flowace.
Timesheet Automation
Effortlessly track time using Flowace automated tracker or sync data through our user-friendly timesheet. Both options allow you to include descriptions and custom inputs like expenses or mileage for accurate records.
Precise Billing and Budgeting
Automate billable amount calculations by setting precise hourly rates based on projects, tasks, or team members. Monitor project progress by adding budgetary limits.
Comprehensive Hour and Expense Analysis
Gain valuable insights with the Flowace Dashboard, providing an overview of billable versus non-billable hours, earned income by project, employee utilization status, and more.
Customizable Reporting
Create detailed reports tailored to your needs, displaying as much information as required. Print to PDF, export to XLS, or schedule automatic email delivery.
Task Management
Add and assign tasks with estimated budgets, and simplify repetitive tasks by creating templates for recurring activities across projects.
Efficient Timesheet Submission and Approval
Supervisors receive email notifications when timesheets are submitted and can easily approve or reject them with personalized messages.
Flexible Roles and Access Control
Invite team members to track time on their projects without exposing each other's data. Designate managers to oversee specific teams and their work.
Consistent Reporting and Audit Logs
Maintain data integrity by locking time logs for a specific period, preventing editing or adding new logs. Download the audit log report to ensure accurate bookkeeping.
Streamlined Invoicing
Generate numbered invoices directly from logged hours, with integration options available for popular invoicing apps to simplify the process for all customers.
Seamless Integration
Connect Flowace data with other tools and applications like Jira, Asana, Azure, and more. Alternatively, utilize our API to develop your custom integration.
Automated Alerts for Improved Efficiency
Receive alerts for idle time and potential overworking, enabling you to address issues promptly and ensure optimal time management within your organization.
Activity Dashboard
Effortlessly monitor and optimize employee productivity with our user-friendly activity dashboard. Gain valuable insights into how your team spends their time, including the apps and URLs they access, enabling you to identify areas for improvement and boost overall efficiency.
Task Management & Collaboration
Stay organized and in sync with your team using Flowace Desk's task management feature. Track tasks efficiently and collaborate seamlessly, ensuring everyone is aligned and contributing to increased productivity.
What our users wants to say
"Effective tool to determine & boost team productivity"
Weekly time reports. I can easily skim through the reports and understand whether a particular productivity strategy is working or not or how a specific member reacts to it.

Suvidya K.
"Encouraging member's and teams to measure their performance has helped increase productivity"
Automated activity tracking. Employees do not need to remember to switch back and forth with their timer to make their time entries.

Anima J.
"A must have for every HR team."
Time reports & custom KPIs are really helpful

Priyadarshani S.
"Nice and effective tool to monitor employees"
It is automatic and saves us a lot of time and costs

Hitesh Y.
"It has genuinely helped me increase the productivity of my teams"
Flowace gives me measurable data and actionable insights that have hugely helped in bringing transparency and work life balance

Prashant B.
"Very good task monitoring tool for teams"
Flowace's interface looks clean and the app doesn't buffer. We enjoy using it.
Usha K.
Boost productivity for modern teams by
minimum 31%.
14-day free trial | No credit card required