How to Create a Timesheet in Excel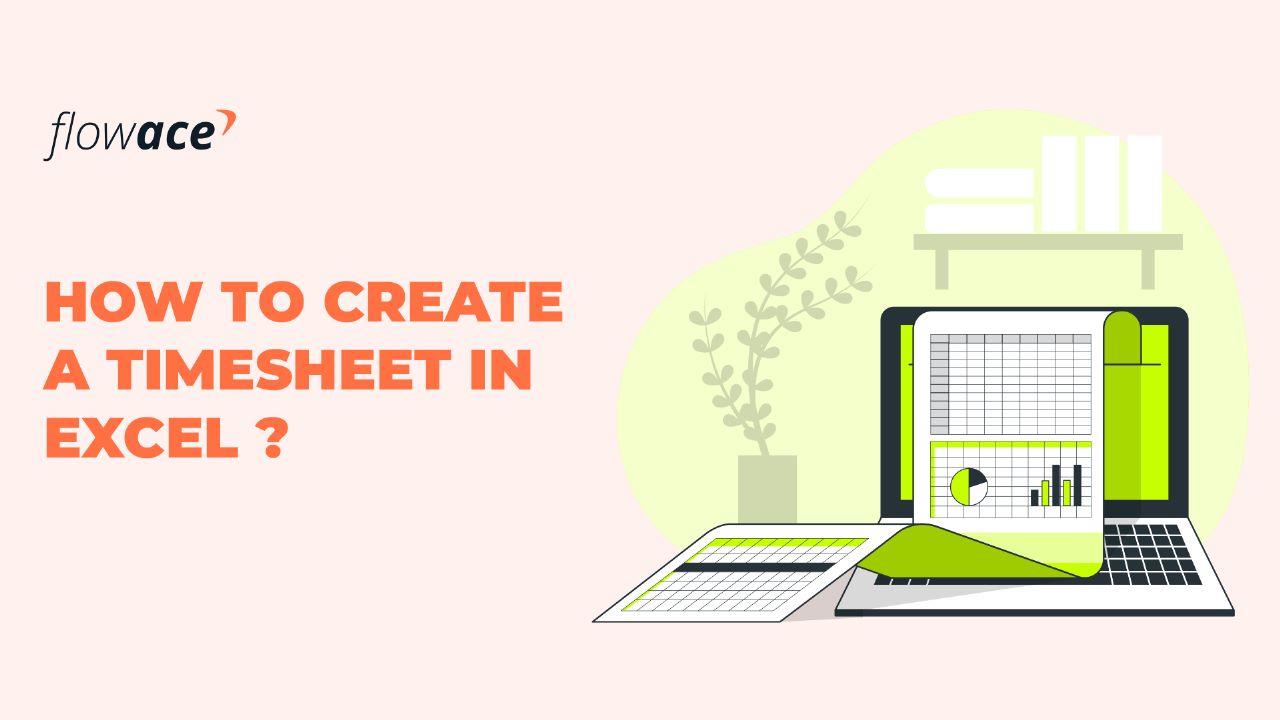 In today's generation, staying focused is very important and crucial to accomplish any task, be it any school, college, or organisation work-related task.
It becomes much easier to finish any task when you have a file or document that helps you understand your work progress and data metrics.
A timesheet is one such feature that makes all the measurements possible.
What is a timesheet?
Importance of timesheet
Methods of the timesheet in today's time
How to create a timesheet in Excel?
How does a timesheet help in productivity?
Overview of Automated online timesheet
Conclusion
1) What is a timesheet?
By the end of this blog post, you will be able to know the importance of a timesheet and how to create one in Excel to prioritise your work.
Let's dive in ;
First, it is very important to understand the term "Timesheet".
A timesheet is a data table that allows you to plan, track and execute projects or tasks in real-time. It is basically a tool or feature that helps you to understand the number of hours spent on a particular task or project.
There are 03 types of timesheets :
Daily timesheet-
This gives you a report that shows the number of hours spent on an activity on a daily basis.
Weekly timesheet-
This gives you the data that shows how much time you have spent on work-related activities on a weekly basis.
Monthly timesheet-
This gives a monthly timesheet report of your working hours.
2) Importance of timesheet for any Business
We all know that Time is the ultimate currency and to use time effectively is very important (a lot of us struggle with that) and much more important for businesses who completely depend on time, be it meeting project deadlines, maintaining work hours of any individual, HR tasks like payroll, accounting etc.
To record these important tasks, you need accurate data. This makes a timesheet essential for any business. A good timesheet not only tells you about the working hours of an individual but also how effective they have been at their task. The importance of maintaining a timesheet will lead to effective business planning and decision-making.
3) Methods of the timesheet in today's time
The top 03 methods of timesheet are-
Paper-based system :
Paper-based timesheet systems are punching machines and registers. They are usually the manual way of tracking the working hours of an individual.
Spreadsheet software :
The most common spreadsheet software is Excel. Spreadsheet software automatically calculates the total hours and overtime hours.
Online time tracking software :
This software is comparatively little expensive but provides you with a wide variety of functionality as compared to other software.
In general, the business will experience the positive and negative sides of a timesheet depending on the type of method they have implemented.
4) How to create a timesheet in Excel?
Reduce Time Wastage :
The timesheet helps employees or individuals to understand where they are wasting hours and weed out the tasks that take longer hours. It helps in deciding how tasks can be optimised.
Easy HR Tasks :
With timesheets, HR tasks like payroll, leave entitlement etc get easily simplified. Timesheet provides you with a report that shows the number of hours an employee has worked which makes it easy to calculate their pay.
Accurate Billing :
The business that charge by hours, timesheets help in billing accurately, knowing where the money is going and how much work has been completed
Automate Billing :
This automatically calculates the invoices and reduces the billing cost and number of working hours to perform the task.
Improve Project Management :
A timesheet is an important tool in terms of project management as it helps in performance tracking which means you get to see who's working how much and analyse the productivity of that individual or whole team. Also, it helps you to manage the estimated cost and future project costs.
5) How does a timesheet help in productivity?
Lower employee morale :
Some employees might take it as being accountable for their own time management while others might take it as if they are spied on. With this, they might suffer from reduced morale and a lack of feeling autonomous.
Timesheet Guilt :
Timesheets might lead to a few members feeling guilty for reporting their real-time for tasks that take long hours and are not acceptable.
Timesheet Fraud :
Timesheet fraud can happen in any business which leads to inaccurate reporting of time wherein employees clock in/out on others' behalf.
Difficult in Tracking Some Tasks :
Meetings and catch-ups are also billable hours but can be difficult to track efficiently.
How to create timesheets in Excel?
Here's how to create a simple timesheet template that is easy for everyone to use. 
P.S.- We have used column numbers roughly to make it easy to understand.
Step 1
– 
To create a simple timesheet, you need to first format it. Make all the cells wider, starting from Cell A. Then right-click on column A, select copy, highlight column B to column L, right-click again and select paste special and then format.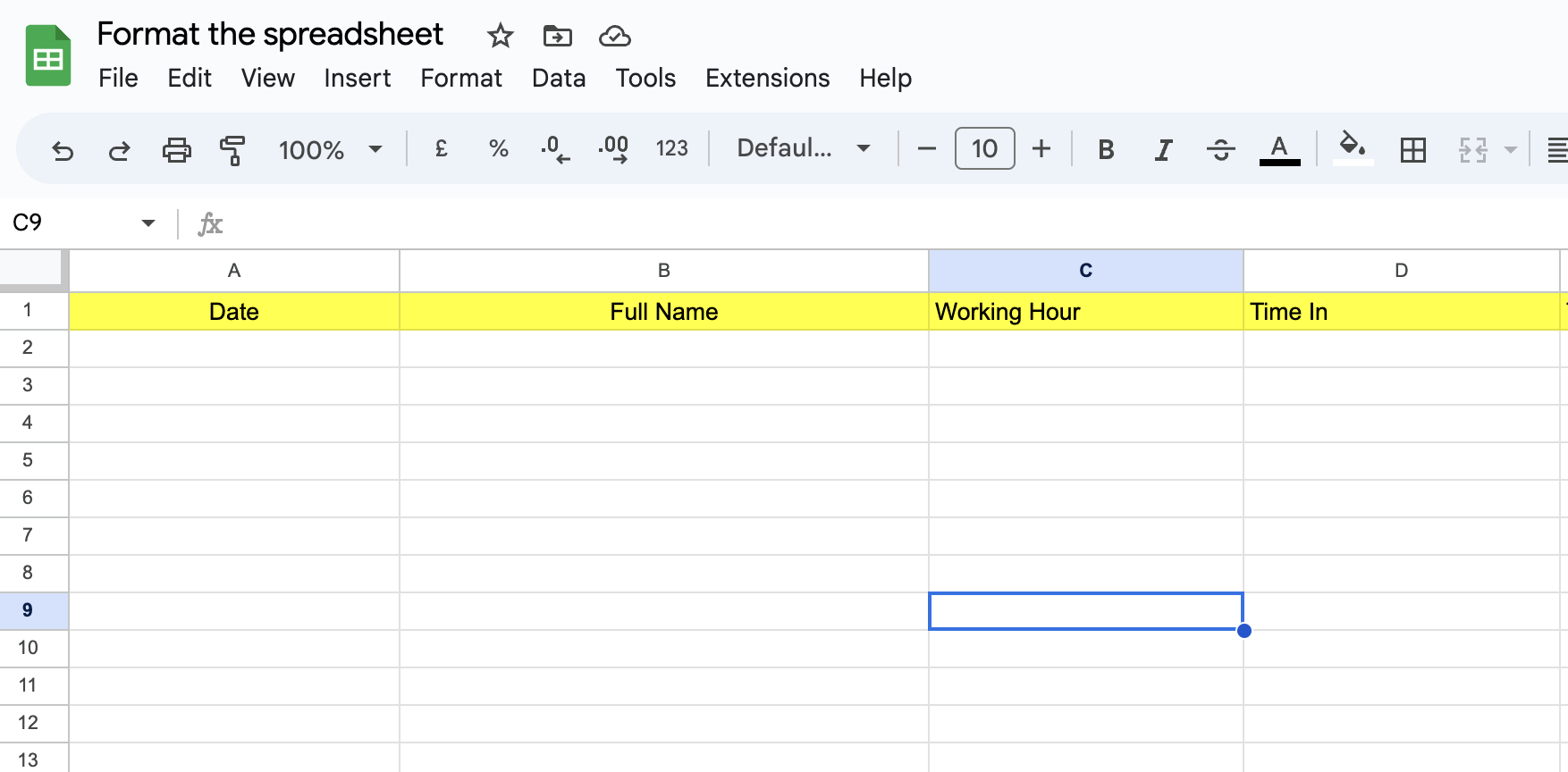 Step 2– Title the timesheet
Type the name of your organisation into cell A1. Centre the text by width and height and format the text by font size and bold it. Highlight cells A1 to L1. Select merge & centre on the home toolbar.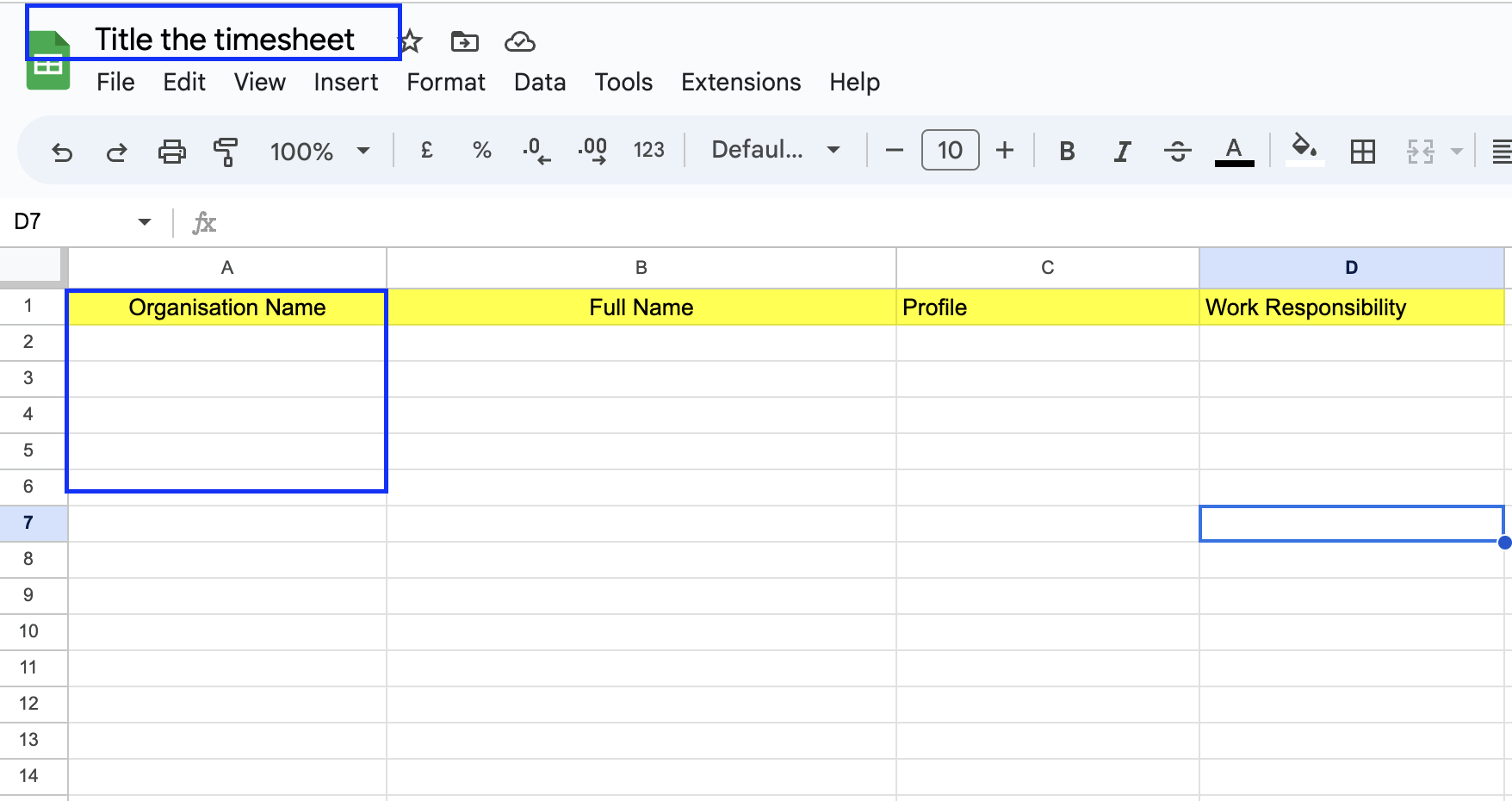 Step 3– Add labels to the timesheet
Add labels like employee and manager with signature and date, standard pay rate, overtime pay rate, and start date (we used cells A2, A4, F2, F4, K2, K4, E6, H6 and K6) now select wrap text so that these words don't take more than one cell.

 In the cells following each label, make a line for employees and managers to write by merging the cells and then applying a bottom border. Merge A7 to L7 to create a small gap between the next set of labels.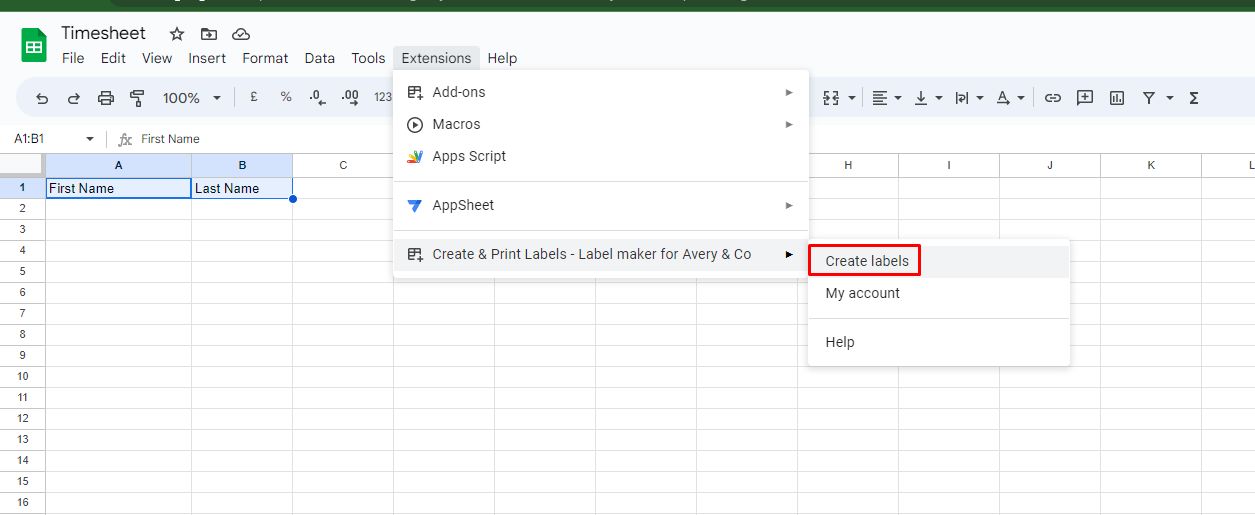 Step 4– 
Print the timesheet
Before the final touch, mark labels for a total like hours this week, rate and sub-total from rows G16 to G18 respectively. Mark K19 as the total. Colour these labels as per your wish and centre and bold the text.

Once you are done with this. If it's a manual entry you can print this timesheet and if it's online then you can share this file with all your team members so that they can make the entries.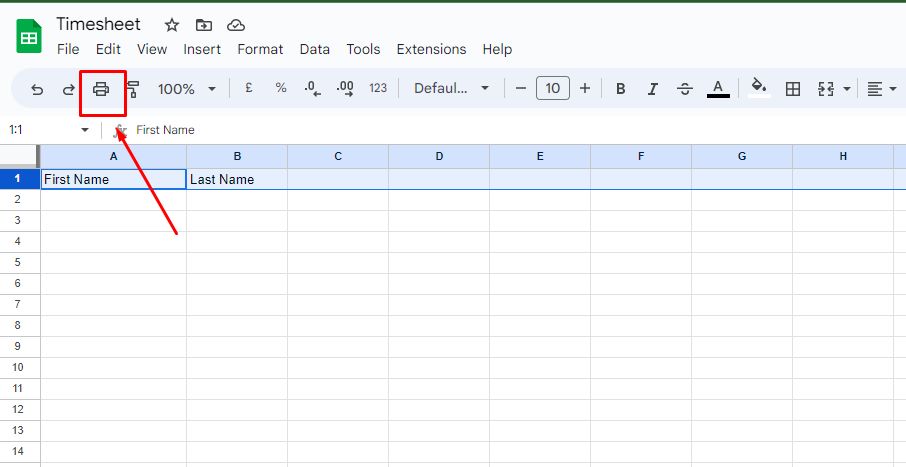 Start your 14 days free trial

for accurate time tracking!
However, tracking employee hours through Excel timesheets isn't the easiest or most accurate way to keep a track of hours. There is a need for automated time tracking that integrates with the other solutions seamlessly.
Related Post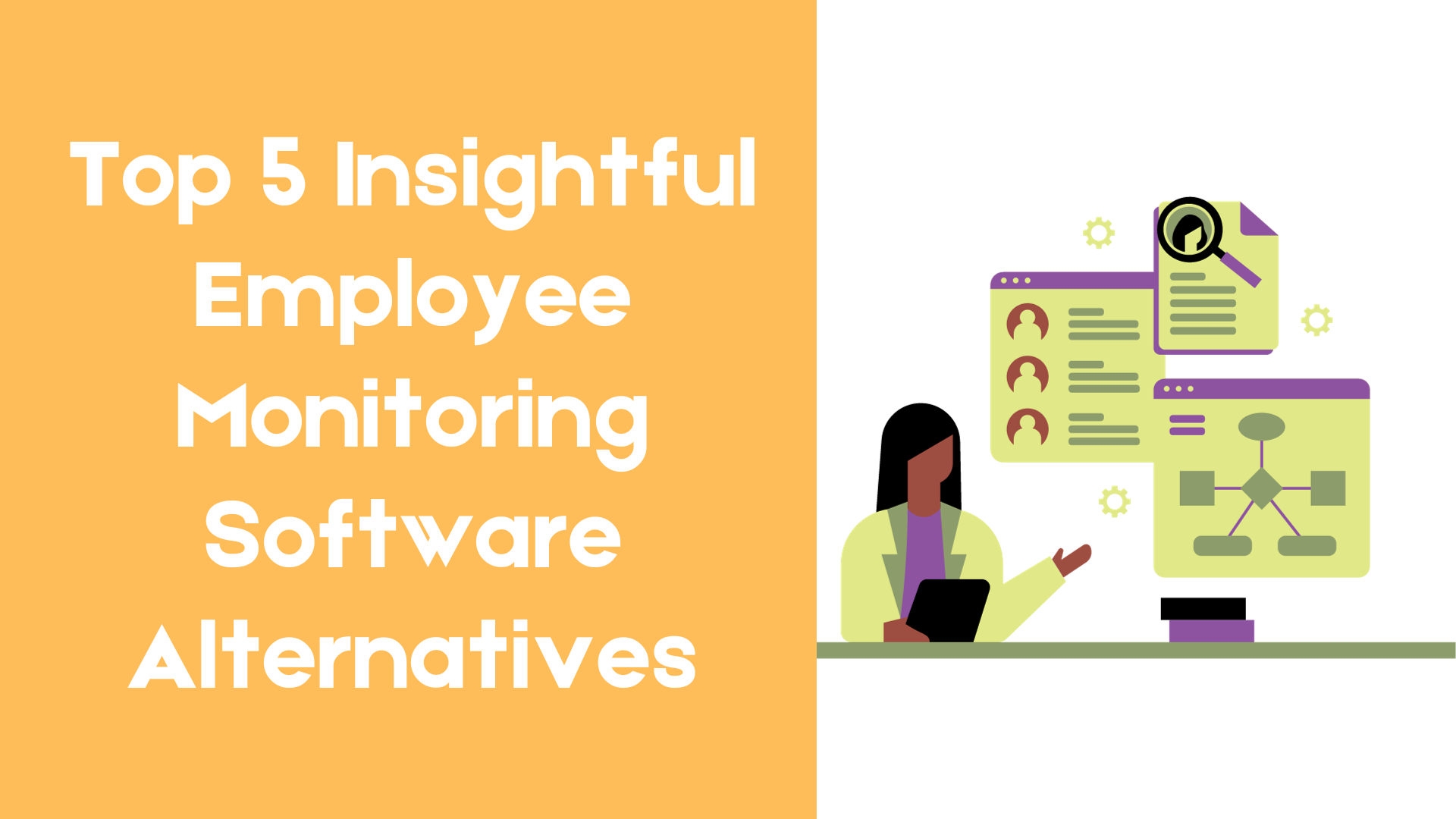 Successful businesses rely on cohesive and efficiently managed teams. Executives need to stay connected with their teams to ensure that…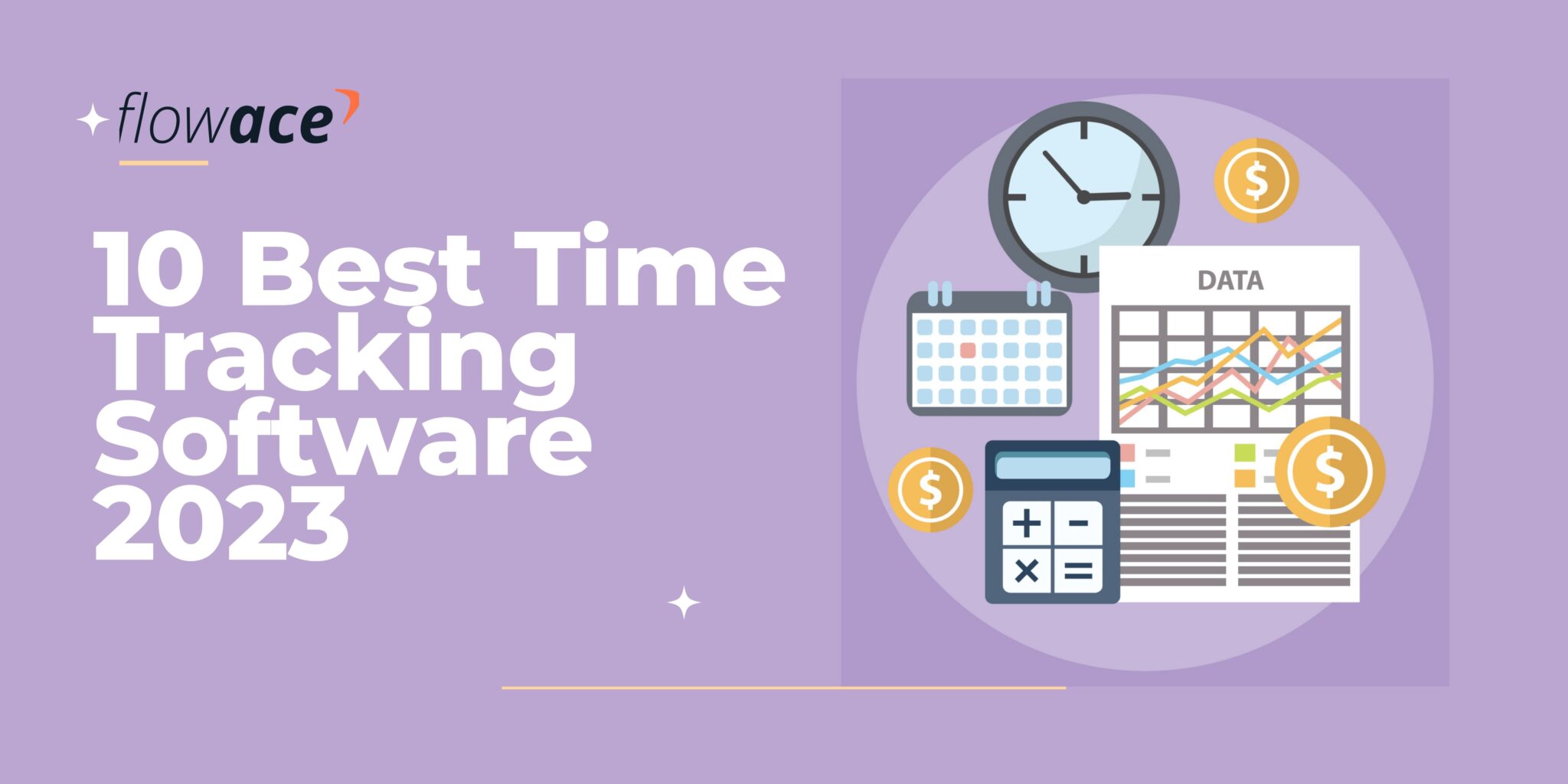 You don't want to lose track of your time. You need to keep track of how much time you spend…